Facebook Page Optimization: Three Spots You Shouldn't Overlook
With social shares and signals playing an increasing role in search engine ranking algorithms, it's now as important as ever to optimize your business's Facebook page for keywords and topics that are relevant to your industry. Whether your page has been around for five years or all of five minutes, there are priority sections on business pages that should get some extra attention.

1. Vanity URL
When creating your business page, you are asked to specify a unique Facebook web address. This vanity URL serves as a direct link to your Facebook page. An example includes www.facebook.com/FullMedia. Keeping this vanity URL as close to your brand name as possible can aid in customer brand recognition and also help your Facebook page to appear alongside related pages in the search engine results whenever people search for your business.






Interested in editing your vanity URL? No worries. You can tackle that under "Edit My Page Info" in the "Settings" section.




2. About, Mission and Company Description Sections
Every business page allows a page manager to fill out sections that include "About," "Mission" and "Company Description." Each of these areas is prime real estate for SEO optimization. Use it to list the key services and products you offer. Incorporate target keywords, as identified through your keyword research, when describing all your business has to offer new and existing customers. Each of these areas educates search engines on the nature of your business, so populate these sections wisely.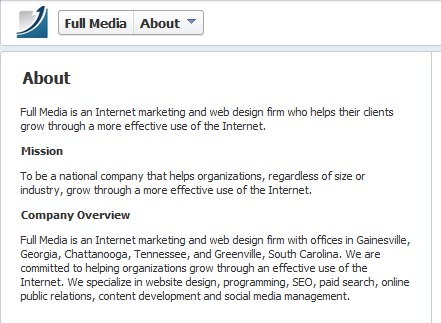 3. Status Updates
Before posting any status update, Facebook asks, "What have you been up to?" While this section may seem to have an "anything goes" mentality, nothing could be further from the truth. In fact, the first few words of any status update are prioritized by search engines, so it's important for page managers to keep article titles keyword-focused and engaging for their audience members.





Also keep in mind that if you dislike the way an article title is appearing in your post, you can edit it. Before you click "post" on your article, click on the bolded title. An editable field will appear that allows you to edit the title.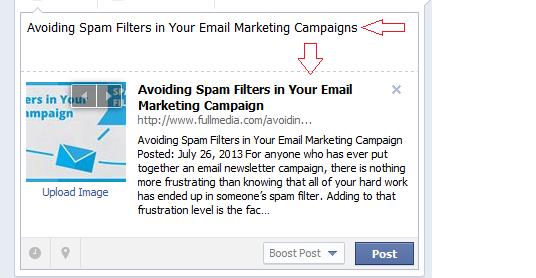 While implementing these optimization techniques, never forget that the main priority on any social network is the person doing the socializing, the end user. Always post materials that are relevant and engaging to your target audience. Create a Facebook page that adds more value to your brand – and the followers will come.

Interested in learning more about tips and tricks for Facebook success? Contact us!