Welcome to Atlanta: Experiences of an Atlanta Newbie!
As many of you already know, Full Media has just opened its newest office in Decatur, Ga., right off the Decatur Square. Before hiring new team members, Full Media gave current employees the option to relocate, and I'm excited to say I made the move. I'll admit: After spending 23 of my 24 years of life in much smaller Alabama towns, moving to one of the largest cities in the country was a tiny bit intimidating, but Atlanta promised lots of adventure. Here are just a couple of my experiences so far.
#1. IKEA Furniture: Not only had I never been to the IKEA store, but I had also never had the pleasure of putting together any of their furniture. First off, the store is amazing. I can see how people easily spend all day getting lost in their maze of showrooms. However, day one at the Decatur office consisted of many hours of trying to read instructions with no words and putting together desks, chairs and tables. So far everything is still standing, so I'd call this a win!
#2. Welcome to Foodie Heaven: I had always heard Atlanta was full of great places to eat, but I didn't realize that it would take me years to actually try them all. With our office right beside the Decatur Square, we have countless lunch options just a short walk away. If you know me, then you know I love to eat. My love of food and an unlimited amount of amazing restaurants to try has resulted in several additions to my list of favorite restaurants. Some of my favorites so far are Leon's, Highland Bakery, Tin Lizzy's and The Varsity.
#3. Rainbow Umbrellas: If you come to Atlanta often, you've probably spotted a rainbow umbrella or two somewhere around the city. You also probably know that there is delicious frozen goodness underneath those umbrellas. King of Pops. Don't try them unless you're ready to be addicted.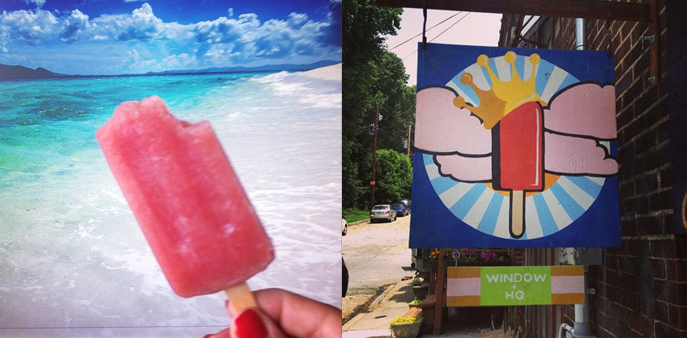 #4. Traffic: Before now, I just thought I knew what traffic was. I now officially know what it means to wait out traffic and avoid an entire area altogether at certain times of the day because it isn't even worth trying. See all the red in the map below? The red shows you where traffic is moving the slowest. These are the roads you want to avoid until they turn green, unless you don't mind travelling at a whopping 5 mph.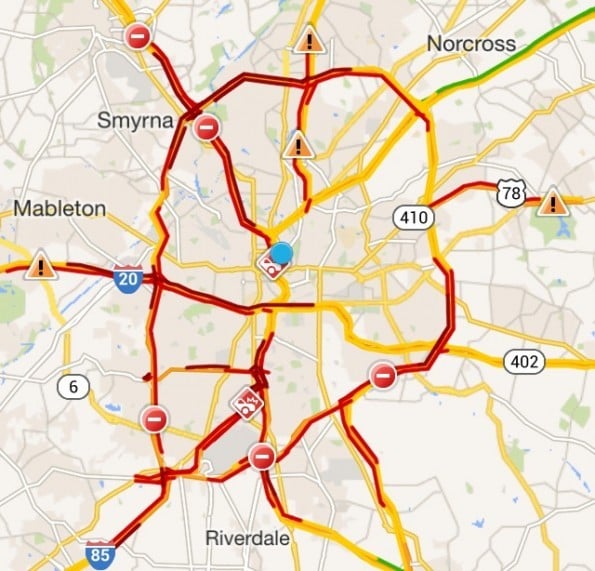 #5. Accents: You'll hear a lot of accents in Atlanta, but I think my Alabama accent stands out about as much as someone who isn't from the U.S. "Wait, where are you from?" is a question I hear almost daily.
#6. Coca-Cola & Chick-fil-A: Two of my favorite things are headquartered right here in ATL. It seems like the whole city shares a love of these two companies. Olivia and I were lucky enough to get invited for lunch at the Coca-Cola HQ. Let's just say anywhere you can get unlimited Diet Cokes and Cherry Coke slushies for free is fine by me. Also, who knew you could dress up like a cow and get your meal for free at CFA? I sure didn't, but I got to experience it firsthand.
#7. Community Involvement: As always, Full Media had our quarterly day of service in July. For our volunteer day, we helped prepare and serve food for approximately 85 women and children at the Atlanta Day Shelter for Women and Children, which is part of the Atlanta Mission. Being new to the city, it was a rewarding experience being able to get involved. Not to mention, we were rocking those hairnets!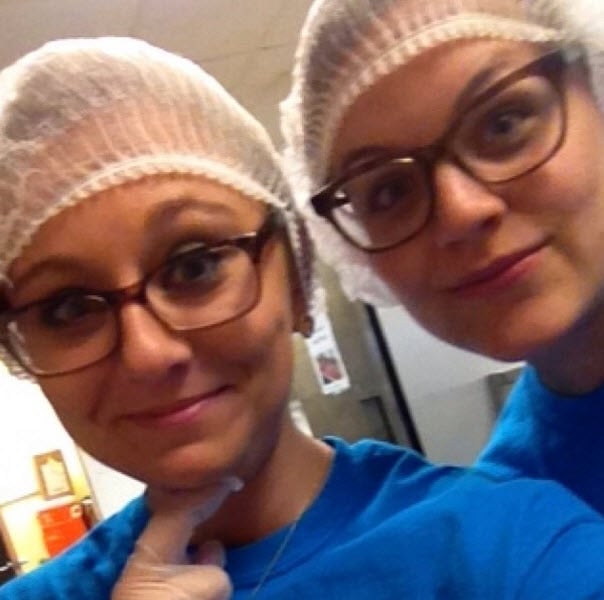 #8. When in doubt, find Peachtree Street: Basically, Peachtree Street has turned into my security blanket when it comes to travelling to places I've never been. I know if I can find Peachtree, I can probably find my way back. However, I can't help but notice that "peachtree" makes its way into a lot of street names, which can get a little tricky.
Overall, I have quickly and whole-heartedly fallen in love with this city. Lord knows I still have a lot to learn, but I'm settling in quite nicely. I'm so blessed to be a part of our Decatur office and to call Atlanta my new home. I can't wait to see what exciting adventures the future holds.
P.S. We love visitors, so if you're ever in the area, drop by and say "Hi!"