Why Healthtech Is More Important Than Ever
In our current situation, healthcare providers are having to make unprecedented changes to their operations, from canceling preventive appointments and elective procedures to discouraging patients from coming in with mild symptoms. Ultimately, they are having to make difficult and sometimes very costly changes to protect the health and safety of patients, workers, and the communities they serve. But as they react to the new realities of each day, patients are struggling to get the information they need about how to interact with their provider and continue to manage their health.
About a week ago, we published an article that offers some easy steps to update your communications strategy in order to keep patients informed. (Give "Healthcare Marketing During COVID-19" a read if you haven't yet.)
This week, we wanted to focus on another emerging truth:
In any crisis: innovation is key.
This past year, we had the great privilege to serve as a sponsor and a mentor for The Company Lab's inaugural HealthTech Accelerator in Chattanooga, TN. In the accelerator, we worked with a number of innovators in the healthcare space that we were working to develop products and services that would change healthcare for the better.
In times of crisis, innovators really shine. Readiness to pivot and change-embracing mindset can make all the difference. We will likely see our healthcare system change and adapt in many ways during this crisis, but one of the biggest trends we are seeing now is the adaption of telehealth and virtual care.
We've seen this first-hand. Since the HealthTech Accelerator, we've had the opportunity to help a telehealth startup with their online advertising program, and over the past couple of weeks, we've seen explosive growth for searches related to their product. Looking at Google Trends data, you can see that interest in terms like "telehealth" has exploded, with Google indicating that this term has reached "peak popularity" over the past couple of weeks. Explore more data here.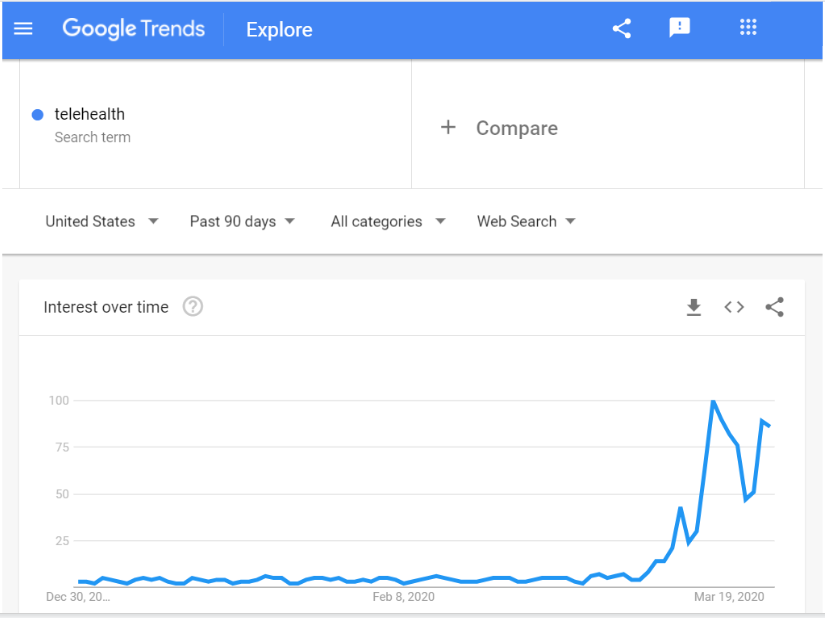 How Rhinogram is navigating COVID-19:
Rhinogram is a HIPAA-compliant telehealth solution that helps streamline patient/provider communications through features like two-way messaging, photo and document sharing, EHR integration, and more. While Rhinogram has been around since 2015 and has been a highly valued tool by existing customers, the company has seen a significant uptick in demand for their tool as we've seen exponential growth in community spread of COVID-19.
It's no surprise that providers are looking for telehealth solutions right now — but it's a fact that Rhinogram worked quickly and diligently to implement a marketing strategy that has gotten them a boost in leads, demos, and website traffic. To get in front of prospective customers who were in dire need of a telehealth solution, Rhinogram: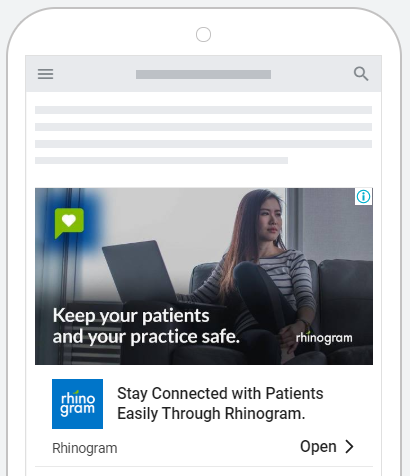 Chose a voice. In the face of a pandemic, company leadership understood how important it would be to send a message that the team at Rhinogram was serious about serving customers and prospects. They worked together to identify tone and messaging on the front end to ensure all communications would align with the overarching themes.
Created content. To meet customers where they were — in the midst of handling a global pandemic — Rhinogram created COVID-19 specific content. The page offers a number of opportunities to engage prospective customers, including details about the platform, testimonials, video content, and more.
Cut their setup fee. As a goodwill effort to lower the barrier of entry during this time of crisis for healthcare providers, Rhinogram decided to waive the setup fee for new customers and made this clear on their landing page.
Began hosting events online. Prior to the COVID-19 outbreak in the U.S., Rhinogram had planned to attend a variety of conferences and events. Rather than halting all efforts when those events were canceled, they took the presentations they'd planned online. In addition to that, Rhinogram has developed COVID-19-specific webinar content.
Leaned on us for digital campaigns. It's important to evaluate what types of campaigns you're running and adjust as necessary. We updated Rhinogram's campaigns to ensure we were capturing the growing number of healthcare providers searching for telehealth solutions that could be implemented rapidly.

Embrace the now and don't go dark.
Right now, organizations that are innovative and able to pivot quickly are the ones that will win the day for our communities and in terms of business outcomes. It's certainly a tough time for a lot of businesses, and some may not survive, but it's certain that the ones who will are investing in innovative new approaches faster than ever before.
We are excited to see how Rhinogram's technology and other investments in telehealth and virtual care help our country #flattenthecurve and improve care for patients long beyond this current crisis. After all, if "necessity is the mother invention," it's safe to say that innovation in healthcare technology is more important now than ever.
At Full Media, our mission is to impact our world positively. If there's a way we can help your healthcare organization better communicate with your community during the COVID-19 pandemic, contact us today.
ABOUT THE AUTHOR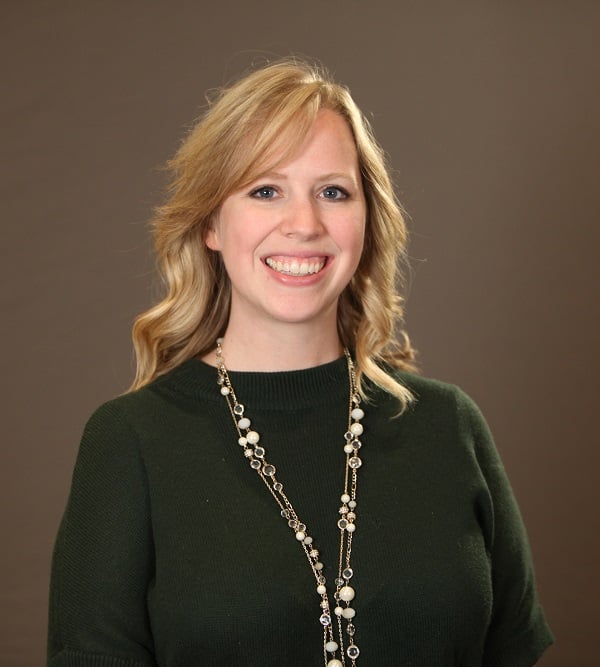 Rachael Sauceman
Head of Strategic Initiatives for Internet Marketing
Rachael develops and executes the strategic priorities and vision for Full Media's Internet marketing department, serves as the in-house subject matter expert in healthcare Internet marketing, and identifies ongoing opportunities to add value to healthcare organizations through innovation and team member development.
A member of the team since 2013, Rachael began as an Internet Marketing Analyst, eventually becoming an Internet Marketing Team Leader before piloting her current role. She has a wide array of expertise in developing marketing strategies for healthcare clients and different medical specialties, with specific experience in developing strategies for MD referrals, YouTube TrueView campaigns and building reports to compare the effectiveness of traditional media to digital media.
Read Full Bio