Learning to Adapt: Top Internet Marketing and Search Trends During COVID-19
As many Americans avoid public spaces and transition to staying home, consumer behavior is changing, making it a necessity to stay tuned and adapt your marketing strategy. Google Trends is a micro-glance into the minds of consumers right now, showing how content consumption and product buying is changing. Google Trends is a micro-glance into the minds of consumers right now, showing how content consumption and product buying is changing.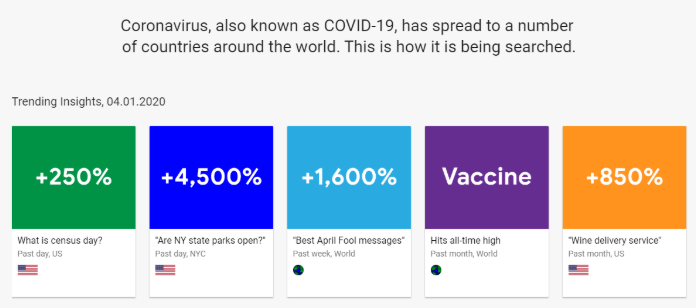 We have been monitoring trends closely and helping our client chart a new course through uncertain waters. If you're a healthcare organization, check out our recent blog article helping healthcare marketers adapt messaging for COVID-19.
Below we share some of the biggest trends that we're turning into actionable tactics in our marketing strategies:
Industries Feeling the Impact
If you own a wine delivery service, good news for you: searches are at an all-time high. Another analysis shows some industries, like health and medical supplies and on-demand media, are seeing a dramatic uptick in performance and search volume. In fact, Netflix and other streaming services are having to manually scale back streaming speeds in Europe to keep servers live. Meanwhile, the tourism and travel industry has taken a massive hit, with fewer individuals searching for and booking trips.
But even if you're in an industry that's hurting, there are still opportunities for you now if you can offer deals and specials, or just promoting your product or brand, to return on that investment down the road. For businesses who are having to build for later, like orthopedic practices who can't perform surgeries right now or restaurants that are shut down for now, you can still look at consumer behavior online to determine how to shift your marketing dollars.
Shifts in Online Consumer Behavior During COVID-19
Between state and city recommendations for closing non-essential businesses, many brick-and-mortar stores face temporarily closing their doors. To combat this, we encourage storefront businesses to go online — start simple with a basic website.
Create, or update, your company's Google My Business account, and include any operational updates in light of COVID-19. Start or maintain your company's social media account so you can still engage with customers who will look to social media to see if certain businesses are open. Make sure you are still engaging with and updating your audience, especially the brand advocates who want to support your business now and in the long-term.

2. A boost in impressions on YouTube and Google Display.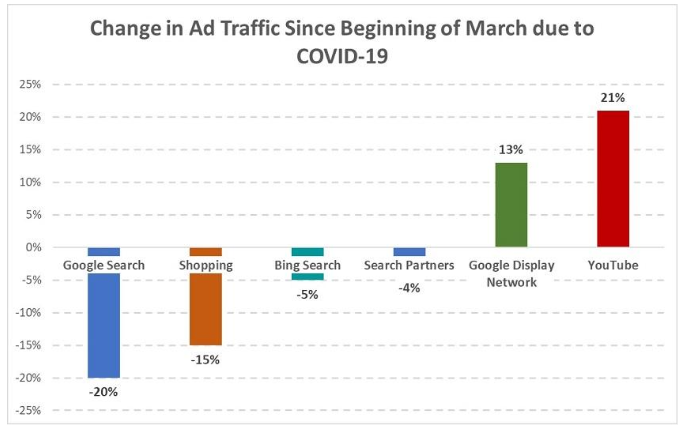 This chart from WordStream shows changing consumer behavior on online advertising platforms. View more data here.
At this time, consumers are tuning in to the news, reading content, watching videos, playing games and spending more time on social media. For many of our clients, especially those that cannot sell their product or service right now, we are helping them shift their strategy and budget toward building brand awareness and affinity on social media, YouTube and the Display network.
Search campaigns often drive a consumer to visit a location or make a purchase right then, but for many businesses that just isn't the current reality. But so many consumers are researching right now and spending more time online - take the time to influence them now so that you are top of mind later.
If you want to go the extra mile, setup remarketing lists now - be sure you set your window out about six month to keep users in your remarketing list who come to your website now. Then, once things have settled down, follow-up up with the users who you make a connection with now to turn them into new business.
3. Mobile traffic has decreased by nearly 25%.
With fewer commuters, more people working from home and staying home (and even indoors,) mobile searches have dropped off, while some desktop traffic has picked up. Consider revising your digital marketing strategy if it was heavily focused on mobile traffic prior to the COVID-19 pandemic.
Be sure to adapt ad campaigns and ad creative for desktop and tablet, as well as bigger screens like tvs. Remember that digital ad formats can display on TV screens as well!

While Internet search patterns may continue to shift, Full Media is here to serve clients' needs, especially during COVID-19. Contact us to learn more about Full Media's full spectrum of services.
ABOUT THE AUTHOR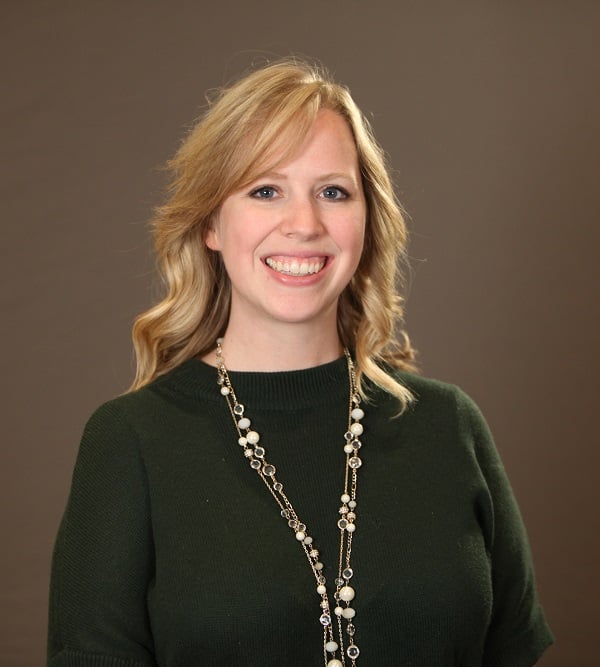 Rachael Sauceman
Head of Strategic Initiatives for Internet Marketing
Rachael develops and executes the strategic priorities and vision for Full Media's Internet marketing department, serves as the in-house subject matter expert in healthcare Internet marketing, and identifies ongoing opportunities to add value to healthcare organizations through innovation and team member development.
A member of the team since 2013, Rachael began as an Internet Marketing Analyst, eventually becoming an Internet Marketing Team Leader before piloting her current role. She has a wide array of expertise in developing marketing strategies for healthcare clients and different medical specialties, with specific experience in developing strategies for MD referrals, YouTube TrueView campaigns and building reports to compare the effectiveness of traditional media to digital media.
Read Full Bio