Why Website Design and SEO Matter in Healthcare
The healthcare industry is all about building trust with patients. Doctors, nurses and other employees working within a hospital or physicians group all share the same goal: to help people. This idea of building trust should transcend to every brand representation that the client has, including their website. Unfortunately, there is an overlying trend of perception with a lot of healthcare practices that they don't need an online presence. While many believe that their business should solely be built through referral systems or traditional marketing platforms, this simply isn't true. If anything, a hospital or doctor's office should have a well-developed online presence that provides an immediate trusting impression.
So how do we do it? Not to worry, let's dust off that dated website and bring your hospital or practice back to life with some recent trends that we incorporate for our healthcare websites.
SIMPLE IS MORE. This is the most important aspect in designing a healthcare website for user experience. Hospitals and physicians groups have an ample amount of content, and plenty to say, so there is always going to be a battle on how to best deliver information without overwhelming the user. The trick to this is creating a clean layout with plenty of white space and simple color schemes. It's not about having less information, it's about simplifying what you have.
Give them what they need! What are the top features that your patients want to see on the website? Do they want to find a location or a physician? They will most certainly need to know if you accept their insurance or not. Identify what your patients are going to want to find fast and make it an extremely prominent part of the home page.

Responsive design. According to a study completed by Search Engine Journal, 1 in 4 online searches are conducted on mobile devices. It is imperative that healthcare websites utilize the opportunity to reach mobile and tablet users as many will be looking on those devices for doctor's offices near their location.
Color coordinating user experience. Whether we realize it, we are designed as humans to be affected by organization and color. It is best practice, especially on a healthcare site to coordinate the links, buttons, text and even navigation to have their own specific color. This will allow a user sorting through information to see a call to action and understand quickly what they are expected to do next.
Embrace search engine optimization. Almost 80% of people do research online before making a decision or purchase. By incorporating search engine optimization throughout a site, you can engage the attention of patients that are looking for hospitals or physicians groups on search networks.
The home page is home for everything… and we mean everything. As mentioned before, hospitals and physicians groups want to include a lot of information and they usually need most of it on the home page. This is why, with many hospital and healthcare sites, you will see a mass amount of links in the footer. We suggest creating a layout that prioritizes things patients will be looking for most towards the top of the page. Follow this with a separate section that discusses news, classes, featured services and whatever else that you feel is important to display.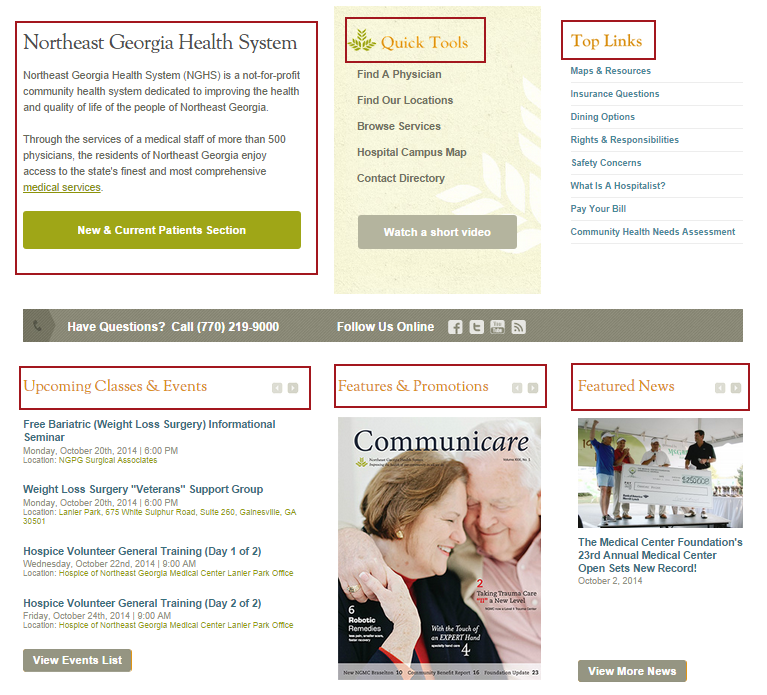 At Full Media we can design SEO friendly websites that will creatively integrate your physicians group or healthcare practice. Contact us today to learn more about our services in website design or Internet marketing.