Why Digital Marketing is Essential for Healthcare Organizations in 2018
As part of an industry facing rapid and unpredictable change, healthcare organizations are incredibly agile in adapting to change. As of this year, 90% of hospitals now utilize electronic health records, a huge jump from only 9% ten years ago. But digitization brings new challenges and opportunities, from data security to leveraging the vast data available, healthcare organizations must stay on the cutting edge to provide a better patient experience and beat the competition.
Digitization is just the tip of the iceberg - healthcare organizations face challenges at every corner. One of the most important ways you can stay competitive and continue to drive improved patient experience in 2018 is to invest in their digital marketing strategy.
Digital Marketing: An Integral Part of Facing Change
Marketing departments in hospitals and healthcare organizations play a critical role in today's environment by creating and improving patient experience, leveraging and giving context to the vast data available and stabilizing brands after M&A.
Still, many healthcare organizations have been slow to shift focus and budgets toward digital marketing over traditional channels like tv, mail and billboards. Digital marketing offers unique opportunities for healthcare providers to stay ahead of the curve. Not to mention, it's simply where patients are at.
Improve Patient Experience by Meeting Patients Where They Are
As early as 2012, Google reported that 77% of patients used a search engine prior to booking an appointment with a healthcare provider. In their study, they fielded over 500 hospital researchers and found that patients are most likely to report that they used online sources for hospital research. When people have a health issue, they go to a resource that's designed to help them find a solution: the Internet.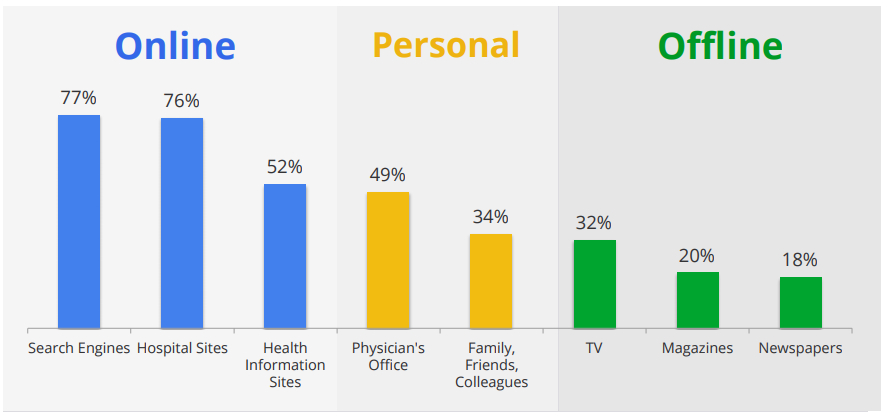 The Digital Journey to Wellness: Hospital Selection, Sept 2012
Patients increasingly expect to be able to discover and interact with healthcare organizations online, and this trend is not just limited to younger demographics. If you are not using search and other online channels to your full advantage, you are likely losing out to competitors who are.
More importantly, healthcare organizations that are not investing in digital are falling short of patient expectations and missing valuable opportunities to build relationships and brand affinity. Whether or not you have a great multi-channel digital approach through your web presence and your marketing, your patients are on the Internet looking for ways to interact with you and your online presence impacts their relationship with your brand.
Make Sense of the Data & Leverage It for Success
There is vast data available, often for free, in digital marketing analytics platforms that can help healthcare organizations understand who their patients are and how to better serve them.
Through Google AdWords, you can discover what demographics respond best to your organization's unique value proposition.
Through Google Analytics, you can understand what information compels patients to decide to choose you as their healthcare provider.
Utilizing easily deployed online survey tools or Google Remarketing, you can ask your audience direct questions about their needs and experience.
Bottom-line: you could never collect this wealth and quantity of data from traditional advertising, whereas digital offers much of this data for free or at a low cost.
By connecting EHR data and the data you can collect through advertising platforms, you can hone in on your exact audience, build online experiences that are customized for them and recruit and retain patients long term.
Stay Agile as Priorities Shift and Acquisitions Occur
Healthcare policy reform and other market factors have led to significant consolidation in the healthcare industry. Both administrators and marketing departments alike are struggling to maintain patient experience and tell a clear brand story amid mergers and acquisitions.
Unlike large and costly traditional marketing campaigns, digital campaigns are easy to scale up and messaging can be changed virtually at any time. A great digital marketing strategy can also help inform your organization about increasing competition or shifts in your markets, as well as get new messages or updates out to patients at a moment's notice.
While digital marketing does not solve the age-old issue of brand consistency, it can act as an agile partner to reach your patients sooner when changes occur.
Be Innovative as New Opportunities Arise
The Internet and devices that can access the Internet are at the nexus of how individuals communicate and interact with the world now and in the future. A team adept at digital marketing will be at the cutting edge of new opportunities to connect, inform and advertise.
Will The Internet of Things take off and provide the type of personalized data you can use to provide customized experiences to patients? Or will wearables like Fitbits, voice tools like Alexa, and smart-home systems never truly become the type of connected data exchange networks experts anticipate?
Will Google's advanced AI and machine learning research truly enable them to understand what searchers are looking for and provide the exact right result? Google's AI research has already produced an algorithm that makes it quicker and easier for doctors to see the risk of a major cardiac event, so does it seem that far-fetched to for machines to learn what we mean when we search?
Patients utilize a variety of digital devices and tools to manage their health and make health decisions. They also input a vast amount of data that could help providers recognize and treat chronic diseases or preventable health issues. The only way to stay on top of these trends and adapt your patient recruitment strategy is to invest in your digital expertise.
Are You Ready for 2018's Challenges?
From the diabetes epidemic to nursing shortages, there are many challenges to face in 2018 and not all of them can be solved through digital marketing! But healthcare organizations that prioritize patient experience and those that are looking to compete for new markets and patients must invest in digital.
If you are looking for a partner to help take your digital marketing to the next level, Full Media specializes in helping healthcare providers develop their online strategy to reach new patients, keep on the cutting edge and improve online patient experience. Learn more about Full Media's experience in this area.