How to Market In-Person Care in a Post-COVID World
While elective procedures have restarted in most practices, the COVID-19 pandemic is far from over, with daily new cases hitting their highest peak yet. Some providers are seeing dramatic rebounds in patient volume and in-patient procedures, surpassing their volumes even before the pandemic hit, but many service lines are still lagging behind and working to recover. Telemedicine is undoubtedly the biggest Cinderella story of the pandemic, with leaders from the Centers for Medicare & Medicaid Services and large commercial insurers agreeing that the genie will not go back in the bottle.
But what about all of the services that can't be done virtually? From labs to preventative surgery to life-saving care, many healthcare services just cannot be delivered over the phone or through a computer screen.
Not All Care Can Be Done Virtually
We have seen some tragic side-effects of patients avoiding a clinical setting and staying at home. A survey of nine major hospitals showed that heart attack admissions had dropped by nearly 40% during March and April. We know that there were not 40% fewer heart attacks, meaning that many patients avoided life-saving or life-extending care due to fear of COVID-19.
Emergeny care is just one side of the coin. Six in ten Americans are living with chronic disease, and ongoing preventative care and disease management is critical for many Americans to ensure that their condition will not worsen. Incredibly, a recent survey from the Primary Care Collective showed that 38% of primary care physicians surveyed believed some of their patients will die from non-COVID-related causes as a result of delayed care. There is a big cost now and in the future if patients continue to delay or completely avoid in-person clinical settings.
Whether you represent a small clinic or a hospital, you have both a financial need to bring patients in the door and a critical need to see patients in-office to keep them healthy and sometimes provide care that will save their lives. So how do you get patients back in the door?
Strategies to Market In-Person Care
As an Internet marketing company, Full Media is actively developing strategies with our clients right now to help them reassure patients and bolster their patient volumes. Below we share some of the messaging we are using to promote in-person care and the tactics we're using to promote this broadly to our clients' patient base.
Publicize In-Office Safety Procedures
Create a page on your website that shows what precautions you are taking in your office to promote patient safety. Healthcare providers operate under a high degree of scrutiny and sterility anyway, so you may assume that patients know your office is a safe place.
Letting patients know what you are doing to keep them safe may be the difference between them choosing you or another provider, or simply not seeking care at all. Consider answering these questions:
What you are doing to keep your waiting rooms safe?

Are you enforcing social distancing or asking patients to wait in their car?
Do you have separate waiting areas for sick and non-sick patients?
Do you have separate entrances for labs or other procedures?
Are you requiring masks or providing masks?
Are you screening patients at the door?

How you are administering certain high-touch procedures?
Have you implemented additional sterilization or taken steps to create more air flow?
Could you include pictures of your waiting rooms, doctors or procedures, demonstrating your policies in motion? Sometimes seeing is believing! But remember that if you grab pictures with patients in them, you will need to get their permission before using these pictures online.
We love this video from Dental365 outlining how they implement their safety procedures and what patients can expect:
The Heart Center of NGMC scheduled a special photoshoot to show patients their safety practices and they have outlined their procedures on their website.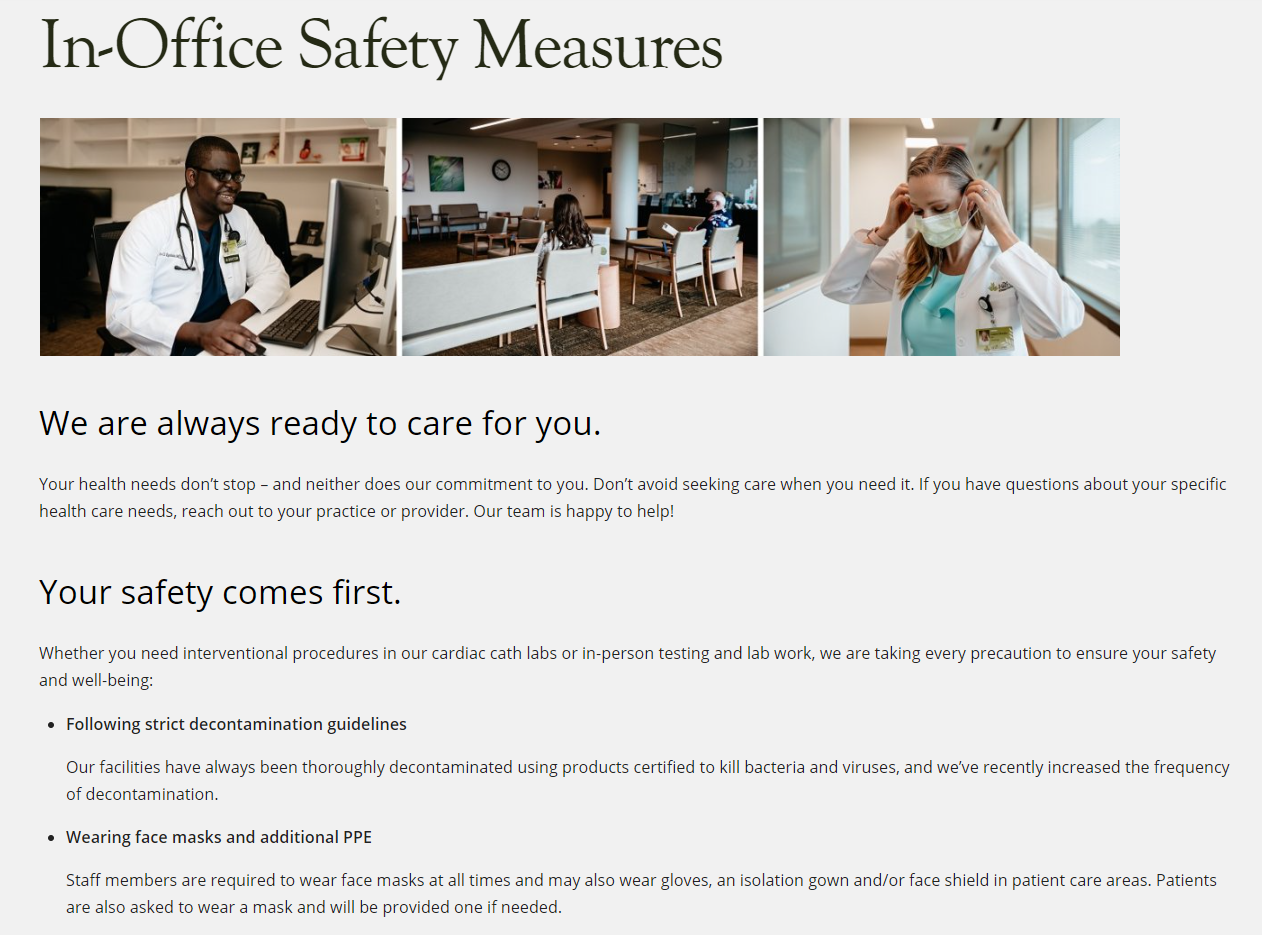 Offer Resources to Patients Facing Financial Challenges
The pandemic has had a sweeping impact on our economy. Over 40 million Americans have filed for unemployment, with our jobless rate reaching levels we haven't seen since The Great Depression. The Kaiser Family Foundation estimates that nearly 27 million people are newly uninsured due to a job loss.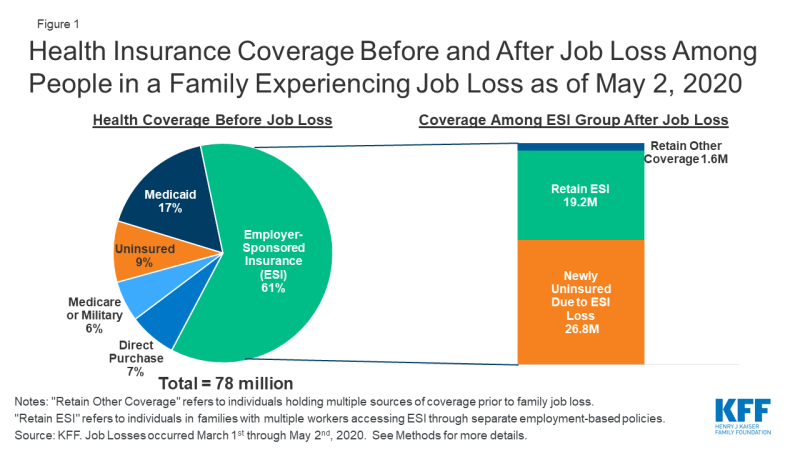 When patients are worried about meeting their other basic needs, like paying rent or putting food on the table, they may delay preventative or even necessary health care. The New York Times recently profiled a number of patients who lost access to health insurance when they lost their jobs, including patients undergoing cancer treatment and patients with diabetes, high blood pressure and other serious health issues.
We know many healthcare providers are also struggling financially right now, and it may not make sense for your practice to share financial information and resources for patients. But if your practice does offer options for patients who are struggling financially or you would like to work with them to figure out how they can afford care, consider integrating some financial information on your in-office safety page on your website.
Do you have information about what insurance you accept? Is it easy to find on your website?
Can you display prices directly on your website for certain visits or procedures?
Do you offer price estimates? Share how patients can get these estimates.
Do you offer price adjustments based on financial need or payment plans? How can patients call ahead to negotiate?
Would you work with patients to find a treatment that is affordable if they cannot afford more advanced care?
Can you provide information on prescription drug discounts?
Get the Word Out
Unlike Field of Dreams, just because you build it does not mean they will come. As an Internet marketing company, we preach the importance of getting the word out. Unfortunately, a website does not market itself.
Consider these tactics to help promote your new website page where you've thoughtfully provided all of these patient reassurances and resources:
Have you linked visibly to this page from your homepage and your main website navigation?
Post this new page on your social media accounts and consider posting some of the pictures you took of your office and your doctors following these wonderful new in-office precautions.
Consider investing a small budget to boost your social media posts. Boosting is a super easy form of advertising that just enables you to reach more of your existing audience on social media.
If you have an email list, email your patients to let them know about your safety precautions.
If you have the budget, widen your reach by running online ads across your broader geotarget to get in front of your current patients and also reach new patients who need care. Here are some reassuring post-COVID ads we like from other healthcare organizations:
If you need help promoting your healthcare organization and regaining your post-COVID patient volumes, Full Media is here to help you reach patients and grow your practice. Contact us to learn more about Full Media's healthcare Internet marketing services.