Six Digital Tactics that Drive Physician Referrals
Typically physician referral marketing is high-touch and expensive, driven by in-person visits to other practices, brochures and direct mail. But during the COVID-19 pandemic, many business development teams have found their hands tied when they were suddenly unable to drop by other medical practices in person. Not to mention, decision-makers just haven't had the time to meet with or hop on the phone to discuss referrals.
Between scrambling to find PPE and struggling with staffing, practices are swamped, which means that business development and marketing teams have to find new ways to drive physician referrals. Over the past year, we've been partnering with our clients to leverage low-touch digital tactics to help drive volume to medical specialties that are up to 80% physician referral driven. For our hospital and health system clients, these specialties are the often highest revenue drivers, so finding ways to drive volume and recover from financial losses was essential. 
The way that both patients and physicians are making decisions is changing, with search engines and other digital mediums driving healthcare choices more than ever. Because digital is so much less expensive than traditional physician referral marketing, and far more agile, these tactics will be valuable to marketing and business development teams now and into the future. The key to success is simply building a strategy that hones in on the audience you want to target.
Assemble your team
The first step in developing a physician referral marketing strategy is to assemble the right people to help you understand your audience and get all of the information you need to build a successful, compelling campaign.
This team may have different players than normal. Consider including physician leaders, business development, schedulers or coordinators who help facilitate physician referrals and anyone on your team who tracks quality and patient outcomes. 
This team will help you understand what messaging or data is compelling to physicians, how physicians look for others to refer to, the specific practices they want to target and the geographic range for your referral network.
Define your audience
Many business development teams will have a specific prospect list for in-person visits or direct mail. This list is still valuable for digital marketing tactics. Determine which types of practices are common referrers. Is it primary care doctors and internal medicine? Is it other specialty providers? Is it pediatricians? 
If you are developing a referral strategy for a multi-specialty healthcare provider, consider whether leakage is a problem at your organization and if you should market to your own providers too.
Data gathered from Advisory Board suggests that loyalty may be a bigger issue than hospitals think, with some physicians referring as much as 50% of their business outside of the hospital's network.
1. Develop compelling content
While physicians and patients do share some considerations, physicians will look for more specific information why your practice and your providers are particularly qualified to help their patients. 
Consider including the following information, if possible:
Access - Both physicians and patients care deeply about access. If you can share any information about how soon you can get patients in, it will help with referrals.
Insurance & Cost - Many physicians will make sure that you take their patient's insurance or will even look for cost information, if they can find it. Ensuring that this is easy to find and positioning cost as a competitive advantage if you can will help encourage referrals.
Ease of Referral - Can you provide a direct phone line to a person who can help with the referral? Can you provide an online system where physicians can easily schedule for a patient? Can you provide a direct line to a person with clinical experience who can answer physician questions? 
Expertise - Do you treat a high volume of cases? How many patients do you treat or procedures do you perform each year? Do you have specialized certifications or other expertise?
Patient Outcomes - Can you share data exemplifying excellent patient outcomes or recovery rates?
Procedures/Services - Do you offer a broad range of procedures, including niche services or offerings, that will help their patients?
Technology - Do you offer technology or approaches that improve patient experience or outcomes?
Research - Do you participate in research or studies that will help patients? 
Patient Testimonials - Can you include written or video testimonials from patients?
2. Paid Search 
Given that searching for health-related information is the third most common thing people do online, running ads on search engines is a no-brainer for healthcare organizations. It's a critical and particularly cost-effective way to reach people with health concerns and turn them into patients.
However, search engines do represent an opportunity to get in front of physicians, especially for more niche search terms that patients are unlikely to be searching for, but that physicians or other referrers may be. 
For example, if you are a cardiology practice, patients are most likely searching for things like "cardiologist near me" or "what are the signs of heart disease." But potential referrers may search for niche offerings or conditions like "cardiac cath lab" or "atrial septal defect." 
By developing content and running ads for niche search terms, you can demonstrate expertise and win referrals when physicians are looking for resources and services for their patients. 

3. Social Media Ads
Offering a wealth of targeting options, social media platforms often allow you to target individuals by the name of their employer, their job titles and sometimes the medical specialties they practice in, giving you the opportunity to build audiences of providers in your area and deliver ads to them. 
The key to making this advertising successful is:
Narrow your audience to the providers that are the most common referrers. Don't forget advanced practitioners!
Narrow your geography to the areas you know are not too far outside of your referral network. 
Deliver ads that have messaging that appeals specifically to physicians. Videos or visual ads about awards, excellent outcomes or unique expertise are some good examples.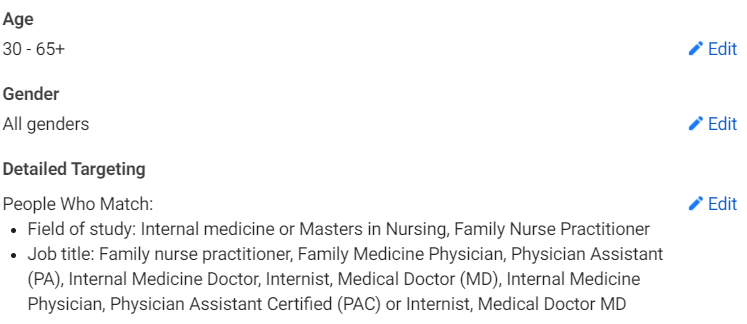 Remember that this advertising tactic is primarily best for brand awareness and to drive consideration of your program. These physicians may not have a patient that needs your services right at the time they are seeing your ad. With this type of advertising, you are working to ensure their consideration of your program in the future. 
4. Display Ads
Most people think of Google Display ads (or display ads on other networks) as a brand awareness tactic only: more of a firehose than a water pick. However, even in the more sensitive area of healthcare, display advertising can be a powerful tool. 
Display advertising is incredibly inexpensive. As a healthcare marketing agency, we consistently see that Google Display Network delivers the lowest CPMs out of all advertising mediums, including social media, YouTube, direct digital placements, online or streaming radio, digital tv and more. Because it is so inexpensive, you can afford to blanket a few people outside of your ideal audience in order to reach that smaller group you really want to reach.
The key to successful display advertising, both in general and for physician referral, is to take full advantage of the targeting options. 
Because business development teams typically collect a list of practices that are common or ideal patient referrers, you can use display ads to target just the practices. The smallest geographic target that Google offers is a one mile radius around a specific address. Luckily, in many cases, medical practices are clustered together in certain areas or around hospitals. Take your list of addresses and build a custom geotarget for a display campaign that focuses on these practices.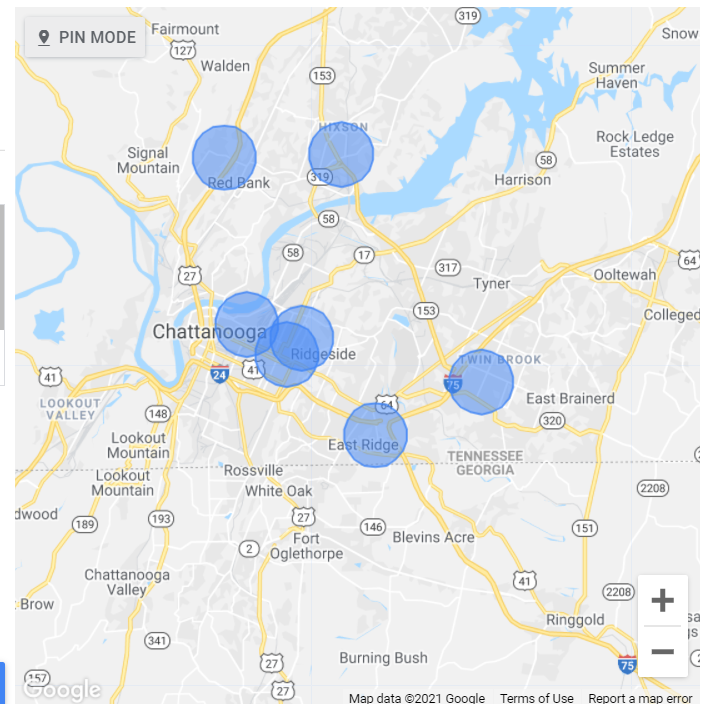 Utilizing this method, you'll likely capture ideal patients and providers, blanketing them with your marketing message and ensuring that you are a consideration. 
There are great options out there to for IP or consumer-level targeting where you can hone in on the practice or person and deliver ads only to them. These options are wonderful, but they can be cost-prohibitive for some medical organizations. While Google Display is a bit less precise, the cost for each impression makes this tactic truly worthwhile. You simply cannot cover an area with your messaging at a lower cost!

5. Local Listings
Whether it's your Google Maps listing, Bing Maps or one of the many healthcare-specific listings, like Healthgrades or Zocdoc, medical providers do use these listings to quickly find a physician to refer too. Ensure that these listings are optimized, position your providers' expertise well, have great patient reviews and have the correct contact information. 
If these listings have incorrect contact information, you may be actively losing business, both from physician and self-referrals. 
It's best practice to ensure that your locations and your physicians all have optimized and accurate local listings.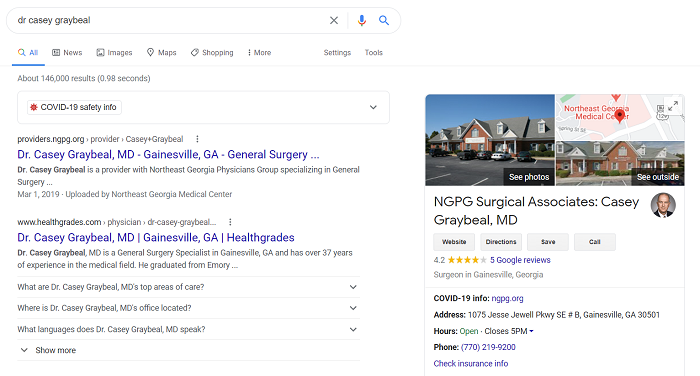 6. Analytics & Lead Tracking
At the end of the day, your marketing strategy is only as good as your follow-through. Ensuring that you have setup a way to track the leads you are getting from your ads all the way through to patient scheduling is essential.
Make sure that you know not just how many impressions and clicks your ads are driving, but also how many phone calls or online scheduling requests. From there, discuss those specific leads with your schedulers or your referral coordinator, and see how many of those leads are actually turning into patients.

Do these tactics work?
Yes! Full Media has experience developing digital marketing strategies to drive physician referrals, supporting the relationship-building work of business development teams. View our case study from The Hernia Center of NGMC to learn about our results. We are utilizing tactics like these right now to help drive volume toward niche medical specialties that are primarily referral driven. 
Full Media is a HIPAA-compliant digital marketing agency. If you'd like to leverage the digital marketing to drive more physician referrals to your practice or organization, contact us today. 
ABOUT THE AUTHOR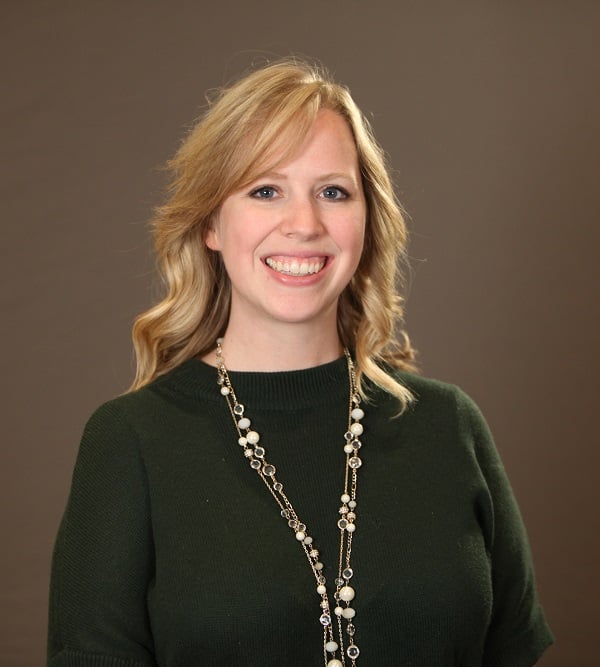 Rachael Sauceman
Head of Strategic Initiatives for Internet Marketing
Rachael develops and executes the strategic priorities and vision for Full Media's Internet marketing department, serves as the in-house subject matter expert in healthcare Internet marketing, and identifies ongoing opportunities to add value to healthcare organizations through innovation and team member development.
A member of the team since 2013, Rachael began as an Internet Marketing Analyst, eventually becoming an Internet Marketing Team Leader before piloting her current role. She has a wide array of expertise in developing marketing strategies for healthcare clients and different medical specialties, with specific experience in developing strategies for MD referrals, YouTube TrueView campaigns and building reports to compare the effectiveness of traditional media to digital media.
Read Full Bio