Google My Business – A New Name to An Old Platform
Google Places, Google+, Google Maps, oh my! With the abundance of Google platforms that exist to help your business function online, it is not easy to understand which platform does what. It's no secret that Google is a challenge to understand. Google's top-secret algorithm and relatively strict guidelines for search engine optimization can make it difficult to know just how your company or organization appears in the eyes of Google.
The most recent platform Google has introduced to business owners and brands is Google My Business. Google My Business takes the place of the former Google Places. Google My Business can be seen as a combination of Google Places and Google+. In the past, Google Places is how businesses managed their business listings in Google and Google+, the social aspect. By combining the two platforms, Google My Business allows businesses to add and manage multiple locations on Google using this free management tool. Google My Business allows you to manage all your information for all your locations so customers can easily find you on Google Search, Maps and Google+, no matter which device they are using. Gone are the days of managing your business locations listings with multiple dashboards. You are now able to in one streamlined location.
If you're new to Google and have not managed business listings before, read on to find out how to start from scratch.
Create Google My Business listings for companies with no prior places dashboard
First, visit https://www.google.com/business. You will be given two options to create your business listing in Google My Business: 'Get on Google' or 'Sign In'. Each option will prompt you to a different page and a different way to set up listings, ultimately providing the same outcome.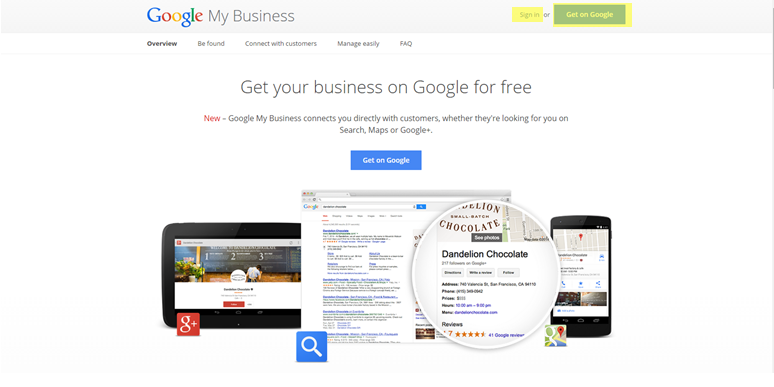 By clicking 'Get on Google,' you are prompted to what I call the maps page. Adding your location from the maps page allows you to search by business name or address. If your business or organization exists in Google, even if you have not physically created, you are able to claim it here. If your business or organization does not have a listing in Google, you are able to add it from this page.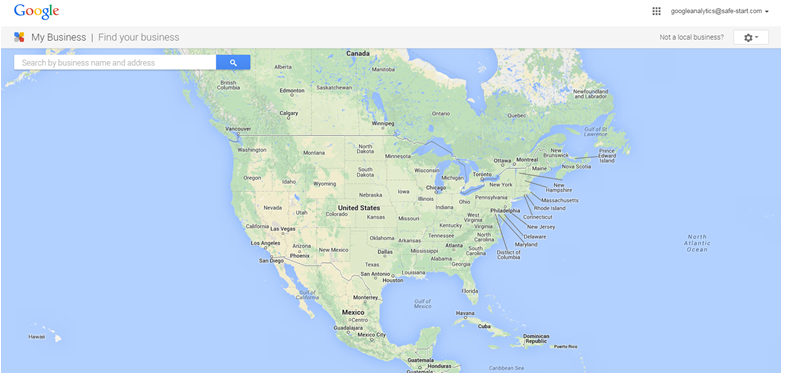 By clicking 'Sign In,' you are prompted to sign in to your existing Google account. If you have multiple employees that will be managing the listing, choose a login that is not tied to a personal Google account. We recommend a business Google account that will manage all Google platforms. For example: [email protected]. You have the option to make other users managers of the listing. Keep track of this login information, as this serves as the owner of the listing. From here you will click 'Get your page' and choose from Storefront, Service Area or Brand.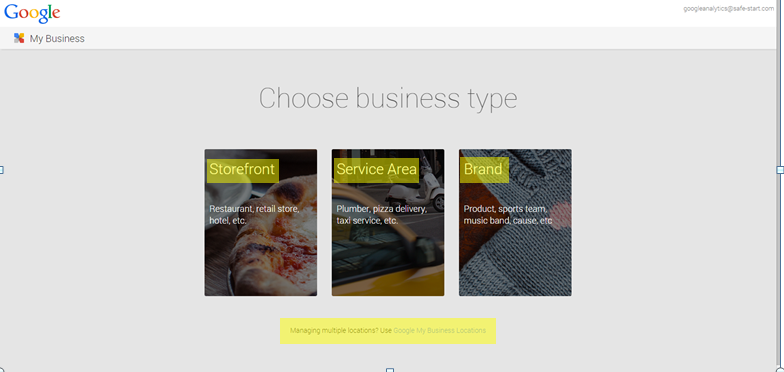 Adding your locations
If you have less than 10 locations, we recommend adding your business locations from the maps page option. As mentioned earlier, Google will most likely pull the business information, but you may have to add your business if it does not already exist in Google. This will most likely happen if you are a new business but can often happen to existing companies. Adding your business location through the map creates a Google+ Page.
Verifying your business location
You will usually be given two options to verify your business, although you will not always be given both at the same time. Google will prompt you to verify your business before the listing and your edits become live in Google.
The options to verify your business will be either by phone call or by postcard. Verification by phone call requires a call to a non-call center or automated phone number. Verification by postcard cannot be sent to a PO Box and must be sent to the postal address of the physical location of the business. If you verify by phone, a phone call will be immediately sent to the phone number provided. If you choose to have your verification code mailed to you, the postcard will arrive within 1-2 weeks. Be sure to look out for the postcard as it is easily mistaken as junk mail!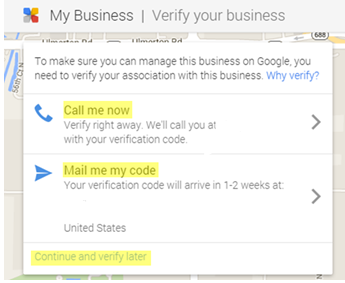 Edit and Manage Your Listing
After you choose a verification method or choose to continue and verify later, you are able to edit your Google+ Page. Remember, your edits will not be live until you verify your business. Below is a snap shot of the Google+ dashboard where you are able to make edits to your business. Here you are able to add multiple categories associated with your business, the phone number, e-mail address, fax number, business hours of operation, website URL and address. You may also add a cover photo, profile photo and description of your company.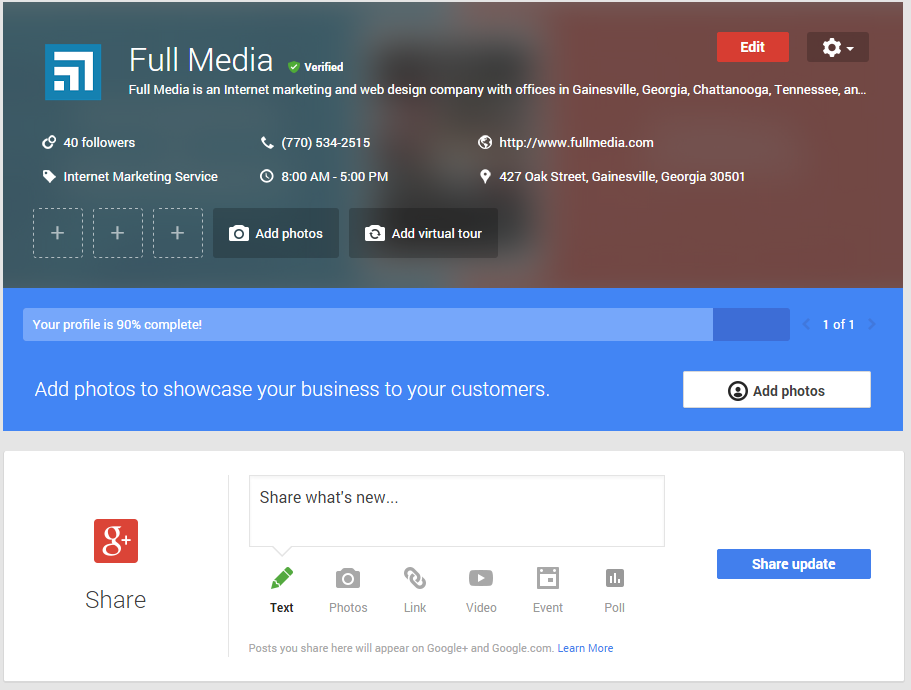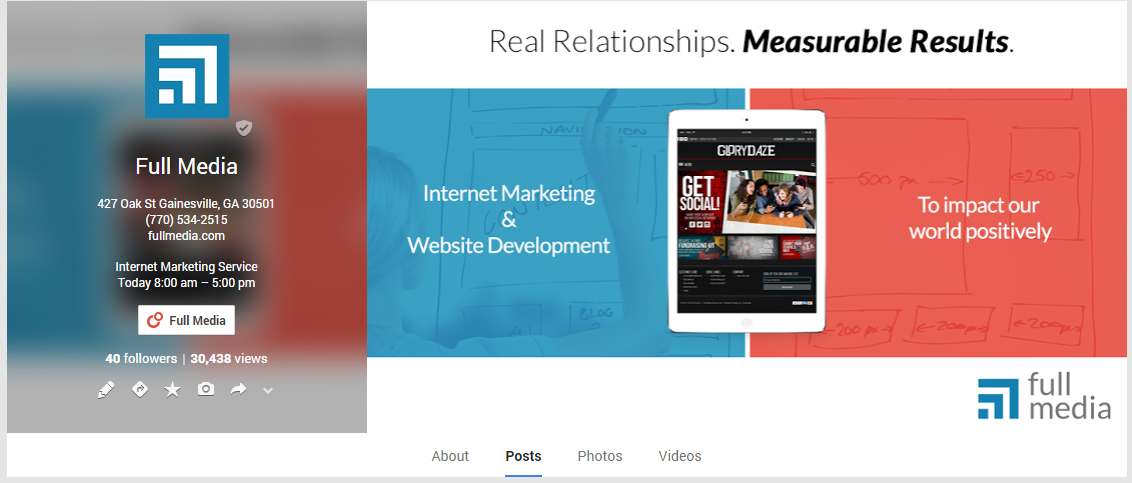 Google My Business may be a new platform, but it has proven to be one of the simplest and most convenient ways to manage your business in Google so far. Google provides excellent customer service to their new platform through a dedicated call center. If you have any problems managing your listings in Google, contact Google directly or contact Full Media for help.