Full Media Earns Aster Award For Siskin Children's Institute Website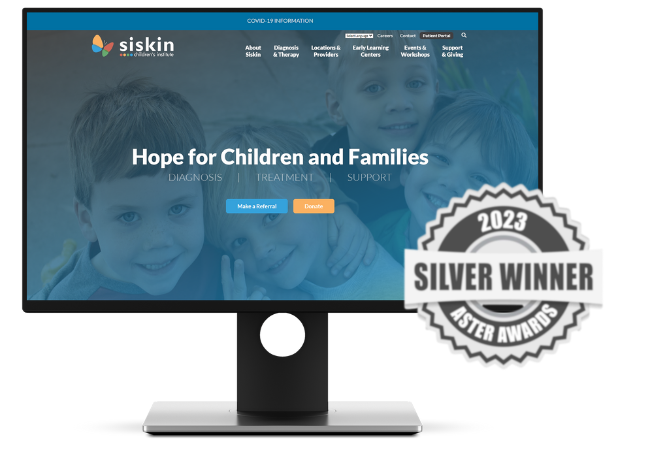 Full Media, a healthcare-focused digital marketing agency, won a Silver Award in the Aster Awards program for its work with Siskin Children's Institute on developing the organization's website. The annual awards recognize excellence in healthcare advertising and marketing.
"To be recognized is truly an honor and testament to the hard work and creativity of our Full Media team," CEO Kris Nordholz said. "Siskin Children's Institute has worked to improve the lives of children with special needs for more than 70 years, and we are proud to partner with them to support their mission and help them increase access to care across the region."
Full Media's relationship with Siskin goes beyond business. Siskin was one of the 15 organizations that received a donation as part of Full Media's 15 For 15 Campaign that celebrates the agency's 15th anniversary in 2023. Full Media made donations to health and community-strengthening initiatives in its anchor markets of Gainesville, Ga., and Chattanooga. The funding will support Siskin's StarNight Gala event on Saturday, August. 26.
Full Media earned its Silver Award by placing in the top 12 percent of all entrants. Judging criteria included creativity, layout and design, functionality, message effectiveness, production quality and overall appeal and execution.
"Many agencies and organizations continued to step up and offer incredibly informative and creative communications," said Melinda Lucas, Aster Awards Program Coordinator. "We've all had Covid touch our lives and look forward to a much brighter future together. Our hats off to everyone for amazing entries."
The Aster Awards have recognized outstanding national and international healthcare agencies for excellence in their advertising and marketing efforts for more than 20 years. All entries are reviewed by a panel of industry experts and are scored on multiple criteria with a possibility of 100 percent. Participants compete against similar-sized organizations in their specific groups and categories.