3 Local Marketing Tips for Chattanooga Businesses
If you've been to Chattanooga recently, you can tell that new businesses are popping up everywhere. The "GIG City" is full of opportunity for start-ups restaurants, niche boutique stores and established companies alike.
It's a great time to market your business locally, because search engines and smart phones are… well, getting smarter. They are working together to bring you real-time information about open hours, location, reviews, photos, contact information, etc.
Can the lawyer walking down Market Street find your menu on your iPhone during her lunch break? If she can, she can probably convince her coworkers to eat at your restaurant. Make sure you are reaching your customers and clients where they are (which is probably on their phone.) Here are a few tips with some great examples from our local CHA community:
1. Claim your listing on "Google My Business"
It's the only way to be able to edit your business information on Google Maps. Even if you've been listed on Google Places or Google+ Local, it's important to update your listing since Google changed their platform. Whether you have 1 business location or 200, this is the first step toward marketing your business locally – allowing people to find you!
Tupelo Honey is a great example of a local Chattanooga restaurant that is taking advantage of Google Maps. They've collected reviews, added photos, uploaded menus, verified their website, added a profile picture and even uploaded a virtual tour of the restaurant.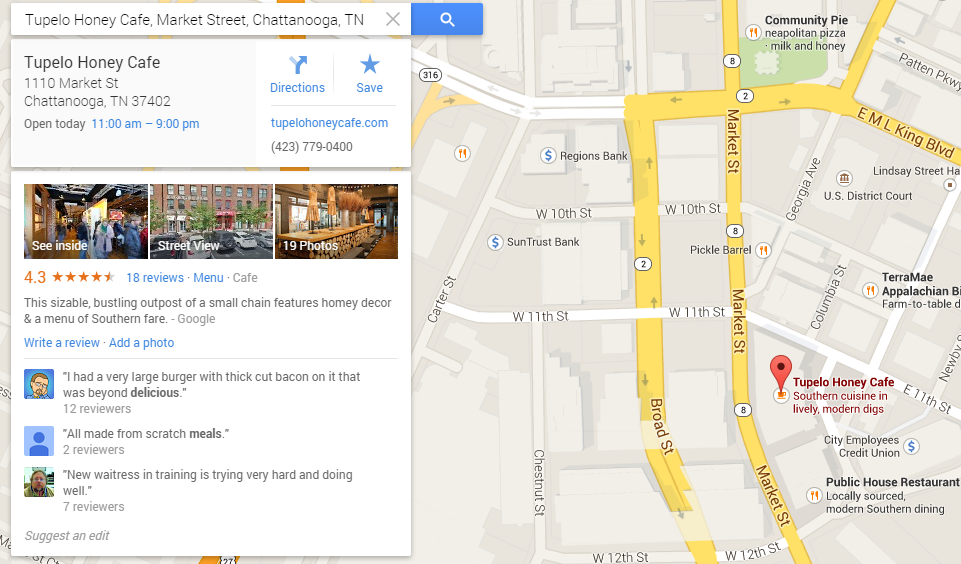 2. Manage your listings on 3rd party review sites
Other websites like Yellowbook, Yelp, Trip Advisor, Urbanspoon, etc. are great places to collect reviews and market your business locally. If you google your local Chattanooga business and nothing comes up, it may be time to invest some time building and claiming those listings. It will add value to your website, your brand and the customers who are choosing where to buy.
3. Build a responsive, mobile-optimized website
More and more users are opting for mobile devices and tablets. Anyone who is looking up your business location on-the-go is most likely using a phone. Have you tried to use your website on a smart phone? Is it easy to find your contact information? If you're a local business, consider building a responsive website, so your customers and clients can easily use your website on any device.
For more information about responsive website design in Chattanooga, contact Full Media today.