10 Marketing Ideas if You Are Launching Telemedicine at Your Practice
In the current situation, putting off routine or non-emergent care is the most responsible and safest option, but it is also financially challenging for medical practices. It also may mean that patients can't get care right now when they need it because they are avoiding a clinical environment. To continue offering care, many practices are launching telemedicine or virtual health services for the first time.
As a healthcare Internet marketing agency, Full Media is developing strategies right now to help our clients communicate with patients and market new services, including virtual health. Knowing that this is a common challenge for many practices right now, we wanted to share our big list of tactics to promote virtual health or telemedicine as a new service.
1. Update your website.
Ideally you would include information about your new telemedicine or virtual health service throughout your website, especially if you have multiple location and provider pages.
Because many patients search directly for their provider or look for their practice, many patients go directly to the page on your website that is relevant to them, rather than travelling through your homepage first. By including a message or button promoting "Telemedicine Now Available" with a link to more information, you can reach a lot of your current patients to let them know the doctor or practice they are used to seeing can now serve them this way.
However, we have found that many providers are trying to promote this service in a hurry, or they may not have access to update multiple pages. So we have been taking the following steps for them: (1) Update their homepage with a prominent message or graphic about telemedicine, and (2) link to a single, new page on the website about the new telemedicine offering.
2. Answer questions on your website about the new service.
Anticipate common questions. Here's a short list of questions you may want to address in an FAQ section about your new telemedicine service:
Are you seeing new patients or just existing patients via telemedicine?
What specific health issues can you help with via telehealth? (For example, if you are an urgent care, you likely can't treat broken bones via telemedicine, but you can probably handle a rash virtually.)
Be transparent about cost if you can, including insurance information if applicable.
What is the process? Are they immediately connected with a provider? Do they fill something out and then hear back?
What hours are you available?
3. Notify your patients via email.
If you have an email list and email platform, be sure to send a notification out to your patients about this new service and direct them to the new page on your website explaining it. If your staff has the bandwidth, you could also consider contacting them and leaving them a voicemail letting them know you are here for them at this time and now offering telemedicine if they have any needs. You may also consider notifying any close partners you have or physicians who commonly refer.
4. Promote on social media.
Post about your new telemedicine service on your social media accounts. Be aware, however, that posting on social media cannot be your only outreach strategy. The average post on a Facebook business page only reaches 6.4% of all the people who like the page.
Consider boosting your posts or investing in ads on Facebook, Instagram, Twitter or wherever your business is. This will help you (a) reach more of your audience on those platforms, and (b) reach new people in your community that don't know about your business.
On Facebook and Instagram, also consider using the "Stories" features to reach more people about your telemedicine offering.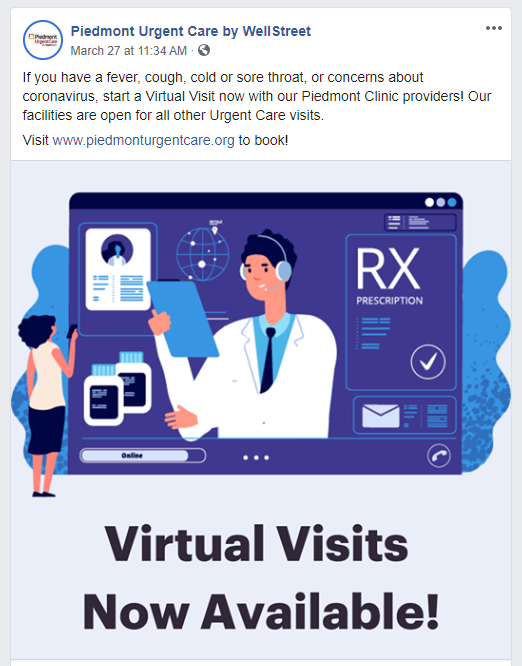 5. Consider Google Search Ads.
Search ads are some of the most effective ways to generate patient volume because they get you in front of patients when they are looking for you. With other forms of advertising, you may be able to get in front of the right demographic or type of person, but you can't guarantee that they need or want your services at that time.
For example, orthopedic doctors can't target people who have knee pain on Facebook. But they sure can target people who are looking up information about how to relieve knee pain on Google Search.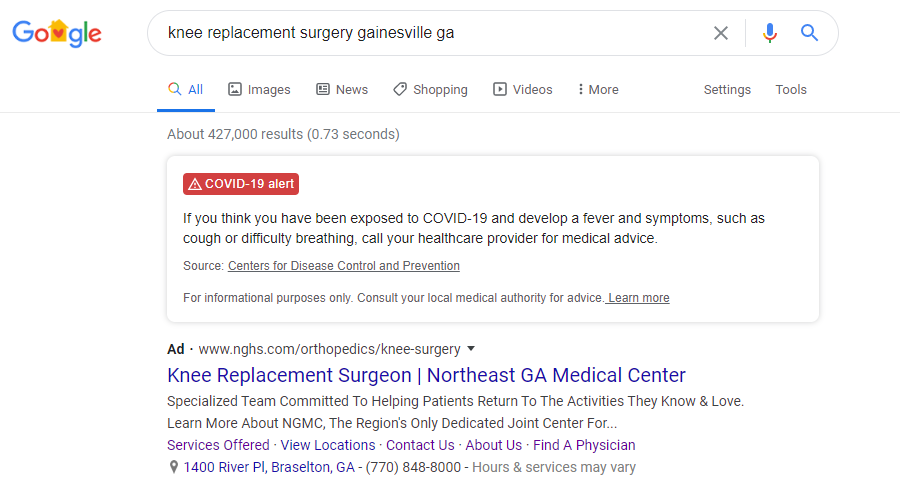 If you are rolling out a new virtual health service, we recommend considering the following types of Google Search campaigns:
Consider branded advertising first. Create a keyword list that includes your practice name and doctors' names. This will ensure that whenever existing patients are searching for your practice on the web, you have the opportunity to promote your new telemedicine offering.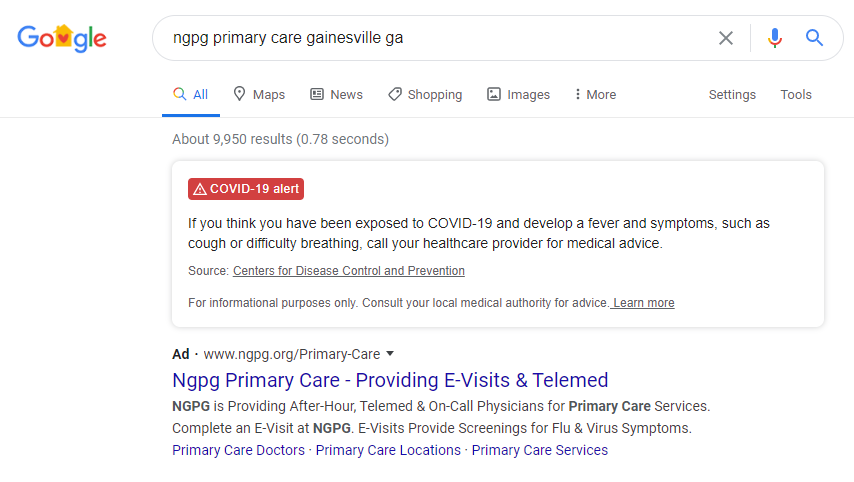 Create additional campaigns focused on the services you are offering through telemedicine.
If you are more of a general practitioner, like a PCP, urgent care clinic, internist, etc., consider another campaign focus on broad terms like: virtual health, virtual doctor, virtual clinic, telemedicine doctor. There are a lot of searches for these terms, and many searchers don't just look for doctors based on their proper title or certifications.
Consider a broader geotarget than usual for this. For many providers, we try to target a relatively narrow geographic area around their practice because close proximity matters to patients. But when it comes to telehealth, patients may be less concerned with where you are and more concerned with your telemedicine offering as compared to other practices.
6. Consider non-Search Ads.
During the COVID-19 outbreak, many patients are practicing social distancing and potentially working from home. This means that the way that people use the Internet has shifted enormously.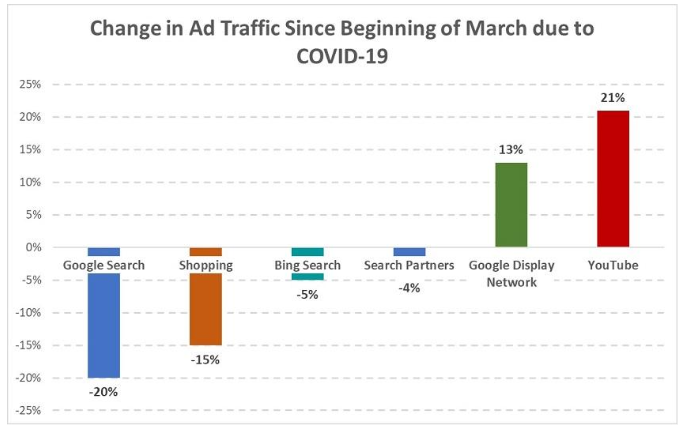 This data from WordStream is showing that users are searching less, especially on a mobile device, and intaking a lot more content than usual. The Google Display Network enables advertisers to show ads on content throughout the web, like local and national news websites, lifestyle blogs, YouTube videos, mobile apps and games, and more. People in every community are logged into their computers – they just aren't searching for services in the same way as usual.
While video ads can be a heavy lift to create, the Google Display Network has a lot of easy options to help you get up and running. Here are some tips to get some display ads up and running quickly:
7. Update your local listings.
Did you know that more than 50% of searches result in no clicks whatsoever to a website? Right now, search traffic is dropping as consumer behavior changes during the COVID-19 outbreak. That means it's more important than ever to tell people need-to-know information about your business right on the search results pages.
Update your business description and services in Google, Bing and Yahoo! Maps - on Google My Business, they actually have a special post type now for COVID-19 news and updates. You can see an example below of one of these posts. Don't forget third party listing services like Yelp, Healthgrades and ZocDoc.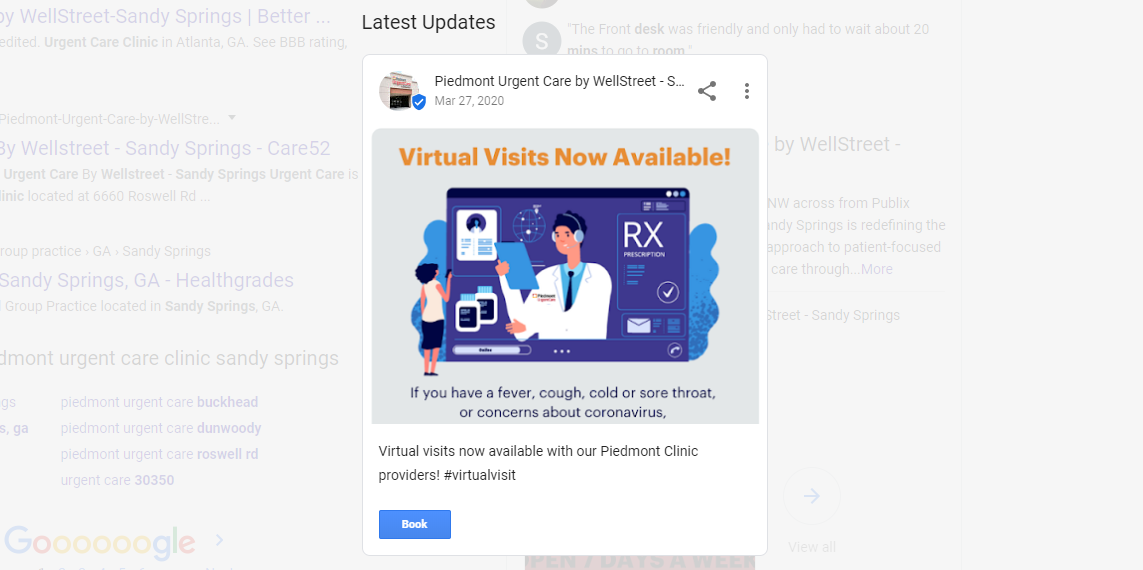 Update as of 4/8: Google My Business is also now offering the ability to add two links to any of your local listings. This includes a special link to COVID-19 information and another link to Telehealth information on your website. Take advantage of these resources to ensure that searchers can easily find information about how your practice is adapting for COVID-19. These features can be found by signing into your Google My Business account, choosing a specific listing, and then updating the "Info" section.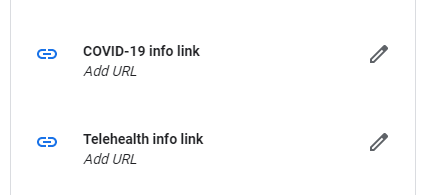 8. Update Meta information on your website.
Similar to local listings, Meta information appears directly in the search results page whenever patients are searching for your services, or directly for your organization. Consider adding a simple addition to your Meta information, especially for key pages like your homepage, provider pages and location pages. See an example below.

9. Setup a direct mail campaign.
While not as agile or easy to launch as a digital marketing campaign, we have found that our clients get good results with direct mail. Whether you are simply updating your existing patients about this new offering or trying to reach a broader group in your community, direct mail can be an effective way to reach your audience. It may also be a good way to support other local businesses, like printing companies, who are likely struggling right now too.
10. Consider incorporating a HIPAA-compliant chat feature.
Given that telehealth is new for you, and many other providers at this time, it's challenging to know exactly what may be holding patients back from reaching out. They may be wondering if virtual care is right for them or their issue. They may be wondering if the cost would be different. Patients have a lot of questions and concerns right now, add to that having to communicate with their provider in a new way, and they may just avoid the problem entirely.
By integrating a feature like chat, where patients can engage directly with your scheduler or practice admin to get the answers to simple questions, you may find out what is holding patients back and encourage them to feel comfortable with a less traditional path to care.
Many chat tools are very easy to integrate – they just require your developer to insert some code, then everything else can be managed by your practice through a user-friendly online platform. Just be sure that you select a tool that is HIPAA-compliant!
If you are launching a new telemedicine service or need help promoting your existing one, Full Media is here to help you reach patients and grow your practice. Contact us to learn more about Full Media's full spectrum of services.
ABOUT THE AUTHOR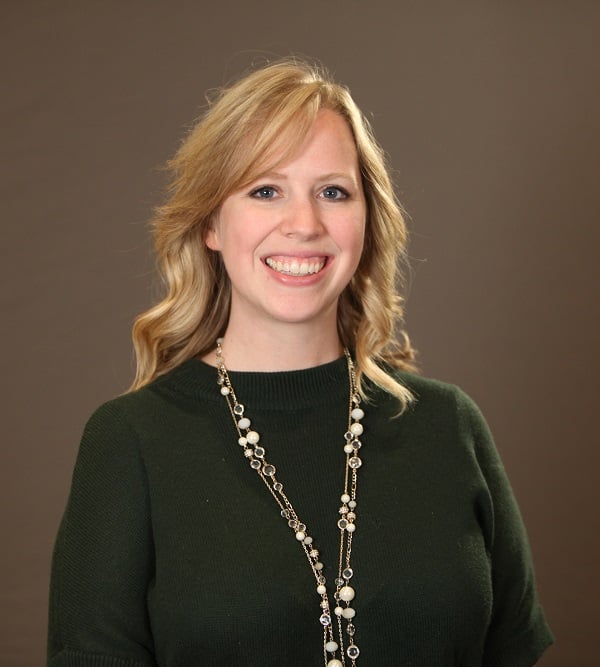 Rachael Sauceman
Head of Strategic Initiatives for Internet Marketing
Rachael develops and executes the strategic priorities and vision for Full Media's Internet marketing department, serves as the in-house subject matter expert in healthcare Internet marketing, and identifies ongoing opportunities to add value to healthcare organizations through innovation and team member development.
A member of the team since 2013, Rachael began as an Internet Marketing Analyst, eventually becoming an Internet Marketing Team Leader before piloting her current role. She has a wide array of expertise in developing marketing strategies for healthcare clients and different medical specialties, with specific experience in developing strategies for MD referrals, YouTube TrueView campaigns and building reports to compare the effectiveness of traditional media to digital media.
Read Full Bio