Which Social Media Platform is Right for Your Industry?
In one or our past social media blog posts, the article outlines why social media for your business is important along with how to choose the right platform for your business.

Most businesses understand the power of online marketing and social media. What many businesses come up against, however, is an overwhelming question of where exactly to start. Social media can feel like a giant because of the plethora of platforms. While weighing all of the social media options, it's likely that you'll soon find that there is simply not enough bandwidth, or even need, to utilize every platform. Here's my tip to you – choose one (maybe two), utilize it, maximize its effectiveness; once you've mastered that platform, you might then consider branching into a second or third social platform.

When choosing which platform to use, let's take a look at which platforms tend to work best for industry types and why.

As a general rule, every business should create a Google+ Page and a Facebook page –


Although it's not yet a major player in social interaction, Google+ is index-able and can be served up in the search engines for a localized search. Why not create and optimize a page that shows your offerings and links to your website? Once your Google+ is created, consider posting once a week or so to make sure you appear as an active industry leader. Add a Google Places to your Google+ account if you have an office location. These listings appear as often as website pages will appear in the Search Results.

For example, when I typed "HVAC" in the Google Search Bar, my top business results were Google+ and Google Places listings: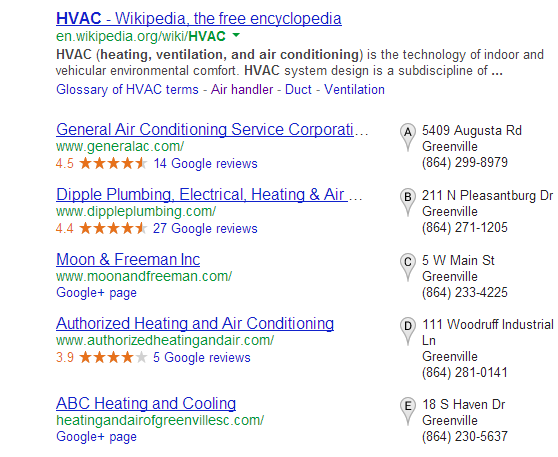 Facebook also has a searchable aspect to it. Facebook's Graph Search is powered by the Bing search engine. Internet users have begun turning to Facebook and using it like a search engine. Each Facebook page is used as 'mini-webpage.' The page offers information such as location, hours, services along with reviews and customer interaction. A well optimized page can lead to new visitors to your business; your page can also provide a link to your website.

Here's an example:

When I typed "HVAC near me" in my Facebook Search Bar, it delivered a number of results and additional search filter options.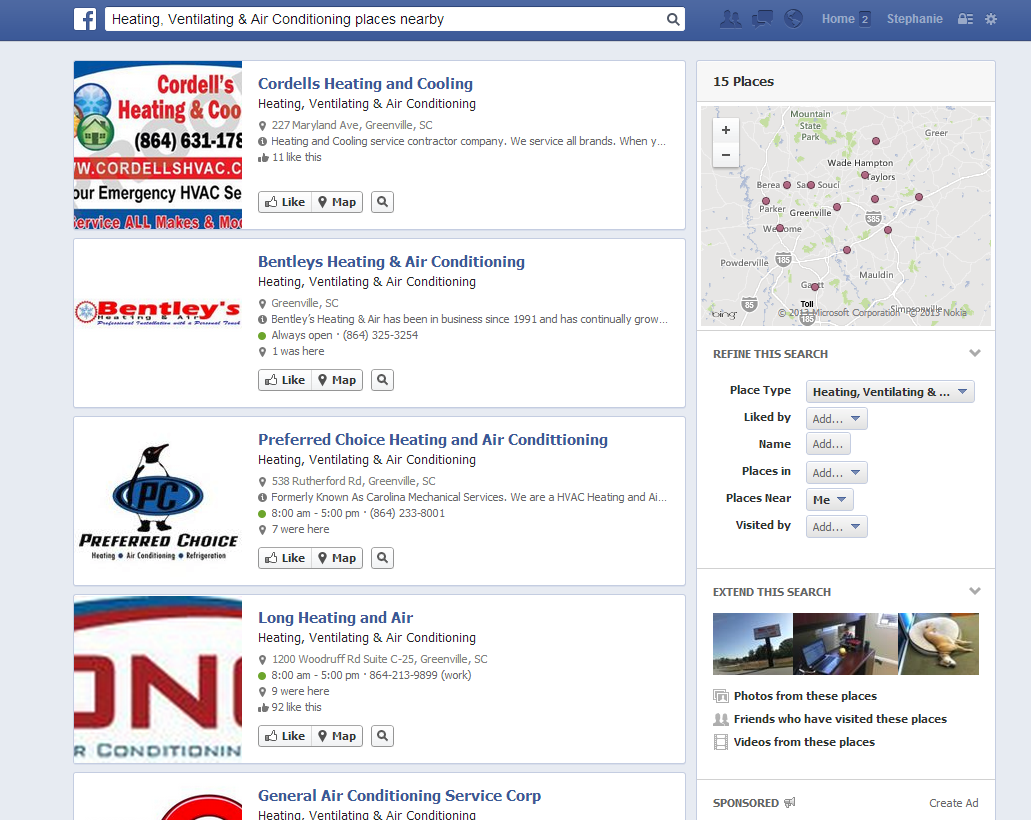 So, aside from the social media power-player platforms, what options should your business focus on? There are different functions provided by each individual social platform. Because each platform serves a different purpose and reaches a different target audience, it's important to understand which would actually be beneficial for your type of business.

Additional Social Media Options by industry type:

Retail (Clothing, Goods, Gifts, Car Dealership, etc.)

While choosing your platform, consider that your customers are looking for the following aspects from your business: appearance, consistency, experience, quality and how to purchase.

Inspire:



There are some great platforms to utilize in several different ways that are perfect for a retail store. In addition to Facebook and Google+, consider next Pinterest and WANELO. These platforms can get your merchandise right in front of a huge audience. Your items can be shared and viewed among multiple friend networks. WANELO even offers immediate purchasing power to your customers; Pinterest can lead directly to your website as well. Showcase your items and show them off here in addition to your website and your Facebook page.

Bits of Info:



If the lifestyle experience is part of your brand, consider Twitter and Instagram. These platforms are more instantaneous and put you in the conversation with your customers and fans.

Entertain and Inform:


YouTube is part of Google, so you better believe these posts will be served up in the Search Engines. Use YouTube to show post customer reviews, DIY projects, fashion shows and events, advertisements – get creative on your YouTube channel; if you have an opportunity for video, take it!


Hospitality (Restaurant, Event Venue, Catering, etc.)
In the hospitality industry, your customers are looking for two main things: consistency and a great experience. Your opportunity of additional social networking is large; there is huge opportunity for you in the world of social reviews.

Show Off:



Use Pinterest to show off your new menu items and Instagram to take photos of your masterpiece dishes or venue décor. You can use these platforms, along with Twitter and Facebook to get your customers excited about events, deals and new menu items.

Promote:


In addition to your website and Facebook, Twitter is a great way to get your customers excited about an upcoming event or weekly deals. You can tweet about new menu items, converse directly with your customers and keep an eye on immediate customer experience.

Share, Find and Review:


First and foremost, encourage your customers to "Check-In" to your Facebook page while they are there. In addition to your Google and Facebook Reviews, there are a number of leading social review platforms to include.



Foursquare is a way for your customers to share your restaurant with their friends. Your customers can "Check-In," Find your location, view your menu, leave reviews and link to your website. Foursquare is popular with locals looking for a restaurant or venue.



Yelp enables users to search local restaurants and read reviews. Your customers will leave reviews, rate your services and comment on their experience. Optimize your page by adding photos and information about your services; you can even promote offers and events on your Yelp page! Get involved in the conversation about your business by responding to reviews and conversing with customers. Remember to always remain diplomatic, positive and respectful when interacting with your customers and peers.


Service Based (HVAC, Law Firm, Dentist, Orthodontist, Contractor, etc.)
For service based businesses, folks are counting on your offerings for some of life's most important investments. Because of this, trust, reliability, and credibility are the aspects you should focus on highlighting through social media.




Your Business Listing and Review Platforms are going to be the most important forms of social media to focus on. For example, Yelp and Angie's List offer customers a local search option where they can read and leave reviews. Your customers will rate your service and review their experience; you can interact with them by responding publicly or privately to their reviews. These listings can also tell more about your business and your offerings.



LinkedIn is likely a very helpful social platform to utilize. LinkedIn helps professional networking, community involvement and industry leadership. This platform is also very helpful in finding experienced, credible employees or business partners.




An additional service based business includes remodeling and construction. Pinterest and YouTube has served as a place to showcase great remodeling and construction work. These two platforms can be utilized as a way to share DIY tips or to show off inspiring projects.

Choosing the right platform for Your Business:

A great and safe place to start is Facebook and Google+. Regardless of your business' bandwidth, posting once or twice a week should be a manageable task. On both of these platforms, you can add photos, communicate directly with customers, receive reviews and provide information about your company and its service offering. This is where you'll become acclimated with the social atmosphere of online public relations.

Once you feel comfortable with the maintenance and utilization of these platforms, choose another and branch out! After all, it never hurts to get your business in front of more of your target audience! For more information or to learn about our social media management services at Full Media, contact us today.