Website Performance Optimization - Part 2: Tools
In part one of this series we discussed why website performance optimization is an important step in your overall internet marketing strategy. In part two we are going to give an overview of a few useful developer tools for improving performance.





Firebug is a great tool for developers to explore HTML and CSS.



Firefox Addon: FireBug
FireBug is an addon to the browser Firefox that helps track down HTML, CSS and Javascript errors. In addition to debugging, FireBug has a tool that will analyze network traffic and help you discover missing files. Using the Analyze Network Traffic tab you can give a detail list of all the files loaded on a particular page with a summary of page load, latency and size of each item.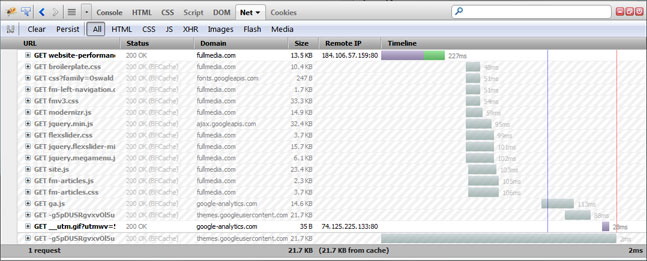 When I am testing page load and performance I like to keep an eye on: total number of HTTP requests, total page size and total load time. With all of these metrics the lower the numbers the better your page will perform.

Google Page Speed Tool
This an online tool created by Google that will provide a comprehensive list of suggestions to improve your website performance. Simply enter the URL to the web page you are trying to improve and implement as many of the suggestions as is practical. Many of the suggestions are simple and can be done without deep technical knowledge. Some are more difficult and might require professional help to implement.

Google Page Speed Tool

Yahoo Exceptional Performance
This resource provides information on best practices for improving website performance. You will find many articles on specific optimization topics and links to tools like YSlow. YSlow is a Firefox addon that works with Firebug.

These tools can provide a lot of insight into how your web site is performing and suggest many improvements. One word of caution, when you start checking your site for performance don't panic if YSlow or Google Page Speed Tool is suggesting something you cannot implement or do not have the expertise to achieve. Performance optimization is an iterative process. If you have a low traffic website it might not be cost effective to try and implement every optimization technique. Typically the higher traffic volume a site receives the more important it is give website performance a high priority.

In the next part of this series we are going to cover some specifics of image compression and image optimization.