The Power of Ad Extensions & How They Can Improve Your AdWords Campaign
Google has announced that ad extensions can now influence your ad's position in the search engine's results page. Ad extensions are a feature that allows ad managers to include additional information about their business with their text ads. If two competing ads are targeting a keyword with the same quality score and bid, Google will choose to rank the ad higher that it determines will have the best impact from its use of ad extensions. Ad extensions allow advertisers an opportunity to display more information about their business including: a physical address, phone number, more links to specific pages of your website, special offers, reviews and social activity. Not only is it beneficial to use ad extensions to take up more real estate in the search results, they can also improve your campaign's click through rate. By offering additional information, your ads can become more relevant to potential customers by providing them more incentive to click on your ads.Extensions are useful for achieving specific goals through the different functions each type offers. Some of the most common ad extensions used today in Google search campaigns are discussed below

· Location Extensions help brick-and-mortar businesses show their consumers how close they are to their nearest business location. Location extensions can be manually entered into your AdWords campaign or you have the option to link it to your Google Places listing. If using a desktop, location extensions along with a phone number are listed directly below the ad's text. On a mobile device, location extensions are a button that reads "Get Directions" and links to Google Maps. By clicking on the address displayed or the "Get Directions" link, consumers are provided directions to your location from their "Current Location" on a mobile device or tablet or from an address entered from a desktop.









· Call Extensions allow users the ability to get in touch with you quickly and easily by contacting your business directly from the ad. This type of extension helps target mobile users with full Internet browsers who prefer to call the business rather than visit their website. Call extensions are displayed as a clickable "Call" button on your mobile device or as a phone number on desktops and tablets.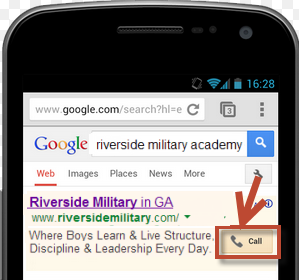 · Sitelink Extensions provide an opportunity for ad managers to expand their ad's standard text through additional text links. With sitelinks, advertisers are able to direct users to more specific pages within their site, beyond an ad's landing page. Sitelinks are displayed directly below your ad copy. This type of extension helps potential consumers find exactly what they are looking for on your site by a single click on your ad. They are great for promoting special offers or highlighting a new product or service your business offers.











· Review Extensions showcase a business' third-party reviews below the text of an ad. They can be displayed as an exact quote from the review or a paraphrased version with a link to the review source. Displaying information about your company from a reputable source helps establish trust with your target audience and gives potential customers another reason to click on your ad. Consumers like to see reviews when they are searching for a product or service online and with review extensions, advertisers are able to share positive stories, awards or third-party rankings with their ads in the search results page.










· Social Extensions incorporate a company's Google+ activity below their ad copy. Advertisers are able to link their active and verified Google+ page with their ad campaign and Google will show searchers how many Google+ followers your page receives. What Google calls "shared endorsements," can be Google+ followers you receive from a link on your website, directly from your Google+ page and from your AdWords campagin, as social extensions will display a link to your Google+ page. This type of extension is beneficial for businesses who are trying to grow their presence on Google+ and is displayed directly beneath the ad's text.










It is important to understand that different ad extension formats are better suited and offer more benefits for various businesses and industries. Learning the different types of extensions and their functionalities will help develop a strategy using the extensions that you have identified best apply to your business. It is recommended to choose an extension based on your goal for the campaign and the action you want users to take when they click on your ad. Once you have your desired ad extensions setup, Google will choose the type of extension to display according to what it deems is most relevant to the users search query or what it predicts will improve the performance of your campaign.

For more information about Pay Per Click Management and the Advertising services offered at Full Media, contact us today.