The Google +1 Button
Google recently made available the +1 (Plus One) button to give searchers the ability to recommend or "like" content for their peers. This social button, intended to be used similarly to Twitter's "Like" button, will have a significant impact on search rankings for websites. Having the ability to "+1" a search result will let other Google users know you recommend certain websites and/or content. It is important to know that you must be logged into a Google account for the button to work.

The Impact on Organic Searches
Google wants to provide the most relevant search results to each searcher. The new +1 button will make search results that much better. Search results recommended from your peers is now one of the signals Google utilizes to ultimately determine search result rankings. The more recommendations a page or a website receives the more influence that result has in the rankings. +1 For Advertisers
Google Ads will soon carry the +1 button. Google believes advertisers will enjoy this new function. Google states a few facts about the +1 button and Google Adwords:

All ads will be getting the +1 button and there will be no way to turn them off.
Clicking the +1 button will not count as a paid ad click
Advertisers will have access to stats about which ads are receiving the most +1s.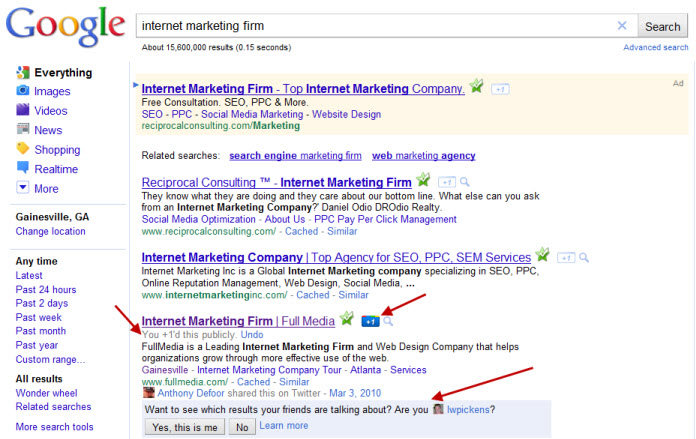 Google's announcement is just another strategy by Google to drive relevant, quality content to the right users. Read Lauren Pickens view on the Google +1 button in a recent blog or feel free to contact us if you have any questions about +1 or other search related questions.

Please contact us to learn more!