The Cycle of Creating Content for Clients
In the world of Internet marketing, if you haven't heard the phrase "content is king," you have been missing a very large component of your SEO strategy. Content is one of the most important things that you can create for your website because it is sharable, helpful and search engine friendly. It gives your audience informative, engaging information that answers questions and encourages them to trust you more.
One of the big roadblocks that a lot of SEO strategists run into is creating quality content for clients. When you're not the expert on your client's industry, it can sometimes be difficult to understand the tiny details, which can make a difference. Fortunately, if you follow the process correctly, you can create a system where you'll receive quality information from the client as well as ease their workload. While this may seem simple enough, there is a very delicate process that goes into creating content.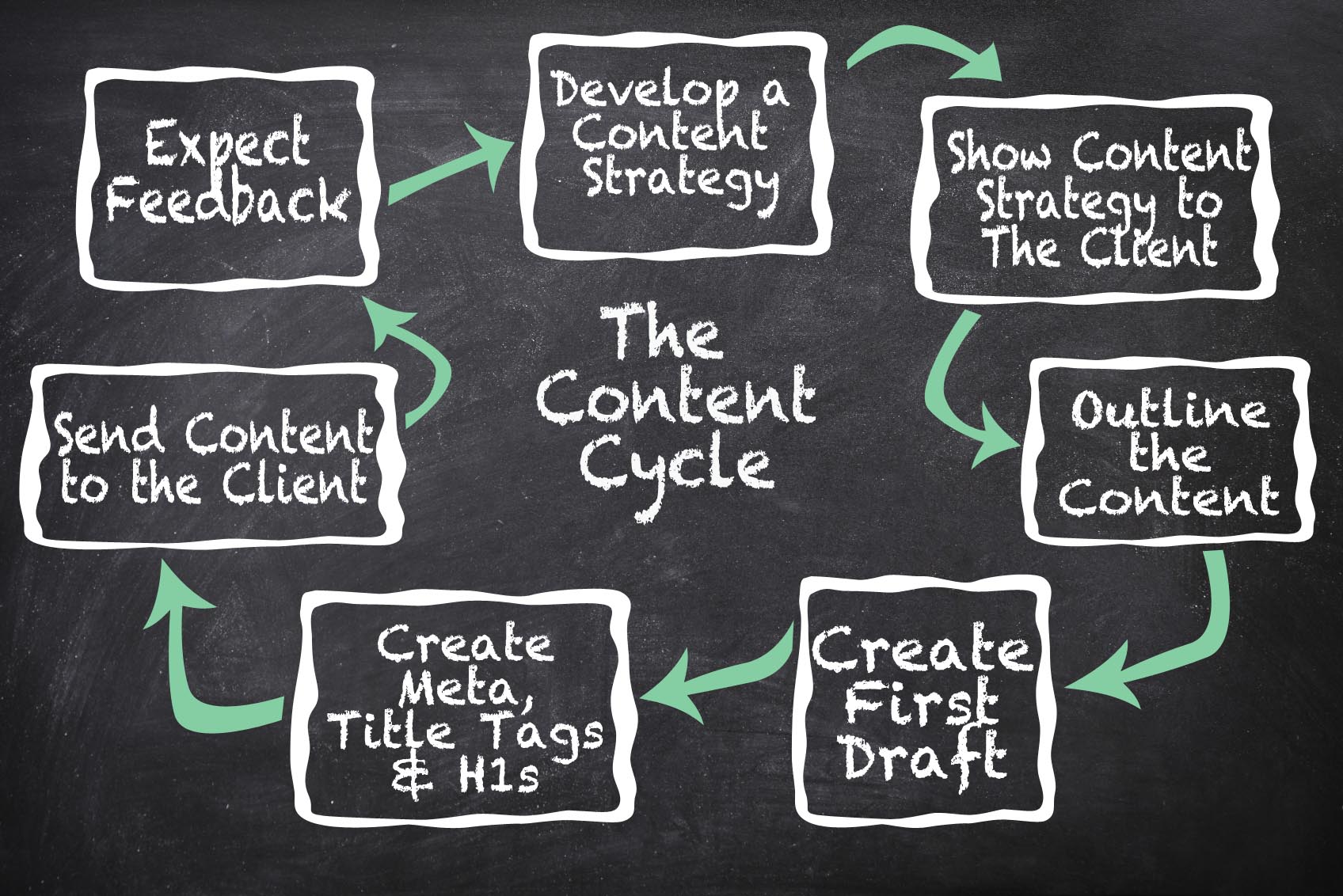 The process for creating content is all about communication with the client. Business owners are always busy and don't have the time to sit down and keep up with all of the content, Meta, research and other things that go into an SEO strategy. So, the more you can lighten the load, the better. By sticking to the following steps, you can create content for a client's website that's informative without giving them too much work to do.
Develop a content strategy. A content strategy is your six month road map for creating content. Not only is this helpful to organize on-site pages, a content strategy provides an excellent visual for the client to see what the pages on their site will look like.
Revise the content strategy with the client. If there is opportunity to provide additional relevant information on a website, a page should be included in the content strategy for that keyword. For this reason, it is imperative to discuss the content strategy with the client and receive feedback on the specifics of his/her services or products.
Create an outline for the content. Develop an outline of what information will go on each web page. Depending on the client as well as the topic, this is another point of communication that shouldn't be overlooked. If you're writing very detailed information on healthcare or complex tax exemption instructions, it can be helpful to consult the client after you create an outline for the content.
Create a first draft. When writing content, always ask two questions: "Is it relevant?" and "Is it important?" Answering these questions will allow you to compile information that is helpful to website visitors while still remaining keyword-focused.
Create Meta descriptions, title tags and H1s for the respective content. Before you send a draft of the content to the client, create a table below the content that includes all of the technical components that relate to it. This could include the keyword focus, Meta description, title tag or even a picture if you plan to integrate one within the text. In review, it will be helpful for the client to see every aspect that goes into the SEO strategy of a single page.
Send the content in a completed format. When sending the completed draft to a client, it should be formatted correctly. This means it links correctly, has a call to action and looks the way it would if it was already published on the site.
Expect feedback. You want the client to be as involved as possible in the creation of their website content. Don't ask them to only give you their edits. Inquire if there is anything they would like to add or include in the draft. The goal is to remove as much workload from the client as possible, so always thank them for the time they spend reading over the content you've created. It is encouraging to the client and will give them an incentive to participate more with content creation in the future.
If you would like to learn more about content creation or are interested in optimizing your website for search engines, contact Full Media today!