Study Published Showing Significant 2011 Budget Increases for Internet-Related M
A new study released by Marketing Sherpa shows proof of what we at Full Media have been experiencing with our own clients over the past few years. Companies are migrating away from the more traditional forms of advertising like print and direct mail (especially the Yellow Pages), and increasing expenditures on internet marketing efforts including new website development, social media, search engine optimization, email marketing and paid search. The chart below shows changes in marketing budgets for 2011 of 900 B2B companies: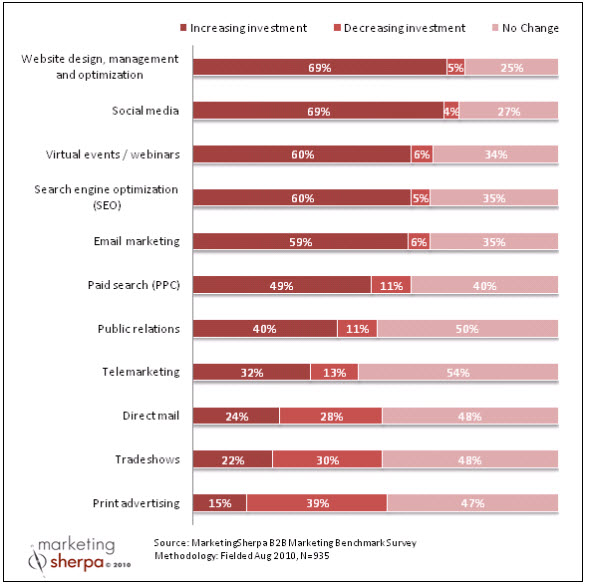 Even in this tight economy, nearly 70% of these B2B companies are planning on investing more next year in their website and in social media than they did this year, where 5% or less are decreasing their budgets for these two items. For the SEO category, a whopping of 95% are keeping the same budget or increasing their monetary efforts. Similarly, paid search expenditures will either be held constant or increased among 89% of companies surveyed.

If it wasn't already obvious that people are moving more and more of their time online every day, either for research on products or services, for fun like gaming or social networks, or to avoid the busy malls over the holiday season and purchase gifts, just look at the data. These companies are all making the strategic decision to be in the same space as their customers. Whether you are B2C, B2C or a mix of both, you should be right there with them.

Don't want to be left in the digital dust? Contact Full Media today for individualized recommendations on how you can increase your internet presence and grow your business.