Promoting Your Service
Promoting your product or service online is easier now than ever before. Writing relevant, useful content for the search engines and for prospective customers is a key task to perform when looking to maximize your exposure at the top of the search engines. But it's what you do with that content after it is written is what matters most.

Although you might be better than your competition when it comes to things such as customer service or pricing, it doesn't really matter if no one knows about it. Just knowing you offer something better than what the competition can offer is only half the battle. It is up to you to promote your competitive advantage in areas online where your prospective customers are looking.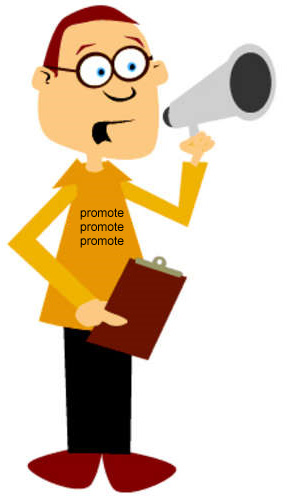 Be Active
Take advantage of online tools that allow you to identify where you prospects are looking. Google Alerts and Hootsuite are just two examples of resources you can use today to help you locate and engage with audiences who are interested in what you provide. Create a plan prior to promoting your content on blogs and stick to that plan for best results.

Be Genuine
People don't like the "hard sell". Becoming a leading resource of information as it pertains to your industry goes a long way in building credibility. Provide content that is genuinely helpful to online users and let the "selling" take care of itself. People looking to buy, first want to do business with someone they like and with someone they trust.

Ask Questions
No one likes a know it all. Present yourself as an authority of a subject that pertains to your business, but don't be afraid to ask questions to fellow bloggers. This will give you an opportunity to forge relationships with active members of online communities.

Create Raving Fans
The more you engage in online communities, the more people will identify you and associate you with a particular product or service. As you continue to provide valuable insight to a subject matter, your reputation online will increase. You will soon expand your network of followers who may be willing to promote content for you.

Creating content on your website or on your blog is a great way to start becoming an authority online in your industry. Be sure to promote the content you create in areas that would benefit you the most. Once these communities online are discovered, be active and be willing to share your knowledge with those who are actively looking to learn more about what you offer. For more information on this, contact us.