Marketing for Local Businesses and Why Local SEO is a Heavy Hitter
For many local businesses, choosing the best marketing channels can be difficult. When deciding where to allocate your marketing resources, it is important to understand how your customers search for local products and services. With increased access to the Internet through personal computers, tablets and smart phones, more of your customers are searching online to find local business information than ever before.
Local SEO (search engine optimization) can help ensure that your business will show up when your local customers are searching for your business offerings.
Why Local SEO is a Marketing-Must
Google is the largest, most used search engine on the Internet. BING and Yahoo! are following. Each search engine has shifted their focus in a big way towards local search. All that these search engines really care about is providing relevant information to their users so that the user will come back time and time again to search for the information they're looking for. This focus on the user has allowed these search engines to become massively-used tools in our day-to-day lives. Google, in-particular, has fine-tuned their algorithm, their tools and their apps to ensure that users can find what they're looking for with just a few clicks of a button... all with a hyper-local emphasis.
How do you make sure that your business information is found by these users? Simple: local SEO. Let's take a look at how investing in professional local SEO services can help your customers find you.
Local Website Optimization
It is important to optimize it so that both users and search engines can understand what is on your website. If search engines understand what is on your website, it is more likely that your site will be served up in the search engine results when related searches are performed. Local SEO helps the search engines understand your business, its offerings, AND where your business is physically located. That means, when someone in your area performs a related search, if your website is optimized correctly, the search engine will be more likely to serve up your information to that local user – your potential customer.
Among other important SEO services, the following are a few items that are vital to successful local SEO for your website:
Location pages: These are pages that are created specifically for your different service areas or locations. There should be an individual page created that provides information for those local customers for each individual store front or service area. These pages can be linked internally and do not all have to be listed in the main website navigation.
Service pages with location specific Meta information and keyword usage. This is very useful for local companies who have a smaller service area. This allows you to send a strong signal of a primary keyword (product or service) as well as tie a location directly to it. It would look a lot like this: product name + location | company name
Easy to find contact information and address. Your users don't want to go on a wild goose chase to find out how to contact you… and neither do search engines. Make sure your contact information and location information is easily accessible. Some great places to put this information are in the website header, website footer and on your contact page(s).
Google tools provided through Google Webmaster tools help teach Google what is on your website. These tools, such as Fetch as Google and Schema mark-up, are great ways to signify what information is on your website and to lead Google to relevant content.
Google Search, Maps and Google+
Google has created many tools that are available to tell Google more about our local business and service offerings. The Google My Business helps businesses manage their Google business account information. This dashboard should push the information across Google apps such as Maps, Google+, and the Carousel and be viewable on smart phones, tablets and computers.
Google+ has merged with Google Places in order to give users and businesses a chance to view and display all of the business information in one place. Here, businesses can display services offerings, business hours, contact information, location, collect reviews, display photos and collect reviews. Each of these items contributes to the overall optimization of the Google+ account. A well optimized Google+ account will often appear in the search engine results.
Google Maps is used across multiple devices. Users use the Google Maps app to find information like directions or find nearby local services. Furthermore, Google Map location pins often appear in the search engine results page and can pull in Google+ information for a local listing.
Google Carousel displays top level information at the top of the Google search engine page in for local services such as restaurants or stores. Information displayed here is pulled from Google+ and gives users an overall snapshot of their local options; each carousel listing can display information such as price level, a photo and review ratings.
See below how several local SEO tactics we have discussed can appear in the search engine: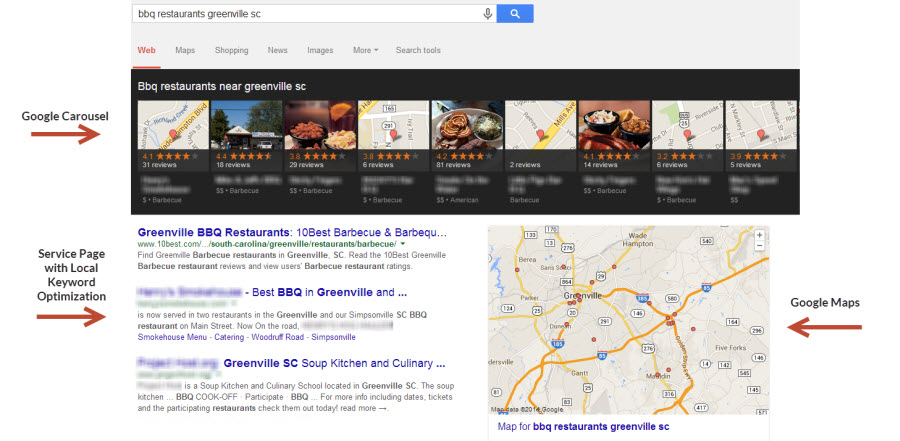 Local Listings
Taking the time to make sure that your local listings are up date and consistent across the Internet is also important for local SEO. These listings accomplish several things: send local signals back to your website, allow users find you on several platforms (referral traffic) and helps establish your local presence in the eyes of the search engines. Local listings can include things like: Facebook, local directories and member or association listings.
Getting Started with Local SEO
Local SEO is a process and requires an organized strategy. Because your users are searching online, and because search engines have provided tools and updated algorithms with a local search focus, local SEO has become an integral part of marketing for local businesses. Our team specializes in local SEO services and can help your business to be found online by your local customers. Find out more about our Internet marketing services or contact us for more information!