Location Pages, Part 2
Your location page(s) can be set it up in different ways which should be chosen based on your business model. While there are several ways to set up location pages, we typically use one of two options: Service Area or Store Location.
1. Service Area
Business Model: You go to customers in a certain location radius, they don't come to you.
Set up:
Step 1: Identify the cities your serve in and outside of your physical office location. For example, if you serve areas in the North side of Atlanta, GA, you will want to identify which cities those would be and make a page to represent each of them.
Step 2: Your option is to either make a unique page for each of the cities or make one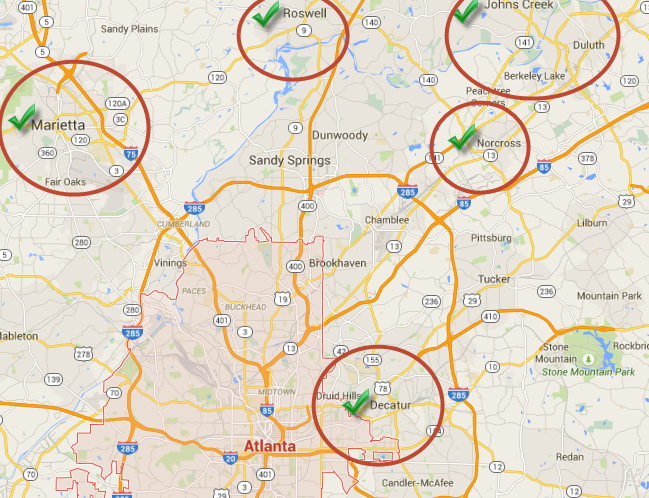 page and list all of the cities.
In the case of a very large city like Atlanta, it would be best to make unique pages for the cities or neighborhoods that call themselves part of Atlanta, such as: Decatur, Norcross, Roswell, Johns Creek, Marietta and so forth.
If, you serve a smaller area, you will want to make a single page and list the towns within the city on the same page. Option "a" may be applicable, but this option is a good place start for smaller towns.
Content:
On these pages, you will write unique information about the service you offer each area. For example, if you are a lawn care company, you will want to write about how long your company has been providing service to the area. You will also want to discuss unique information about the area and to communicate that your business understands the area and can provide great service to them because of that understanding. You can even provide images or testimonials from clients in that specific area on this page. Simply put, you need to convey that your company offers the service to their area. Lastly, give them a way to get in touch with you along information about your hours and availability.
Linking:
Create one "Areas We Serve" page and link to the specific pages. At the very least, link to the pages from your HTML sitemap. That way, search engines can still find the page and serve them up inside of the search engines. By only linking from your sitemap, you reduce the likelihood that someone who is already on your site will come across your individual location pages.
Other types of business models that can use this type of location page:
A company who wants a local presence, but doesn't necessarily have a store-front or specific service areas. This could be an ecommerce store or an online service based company like insurance or online marketing. For example, if Full Media wanted to break into certain markets, we could write a page for the city in which we are targeting. Then, people in that city would be more likely to find us as an option for them.
2. Store-Front Location Pages for Brick and Mortar
Business Model: You have one physical address and customers come to you.
Set up and Content:
If you have one store location, you will want to make one location page with your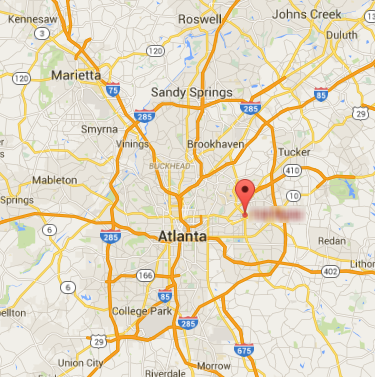 physical address, contact information and store hours. This can be created as a "Contact Us" page. It is also advised to place your physical address in your website footer so that customers and search engines can easily find where you are located, not matter where they are on your website.
Additional set up option:
You have an option to layer on service area pages if it is applicable to your business. For example, Attorneys will have an office location, but they may also serve clients in nearby cities. If this is the case, you will want a location page with your office address, but you will also want service area pages describing expertise in your practice area for the cities you wish to serve.
This page should be located in the main navigation of your website and linked to from internal pages as well as the sitemap. Any additional service areas pages can be linked to from your main contact page and/or from your sitemap.
Business Model: You have multiple store-fronts and customers come to you at each store.
Set up:
If you have multiple store locations, you will want to make individual pages for each store and house them under a page named "Locations."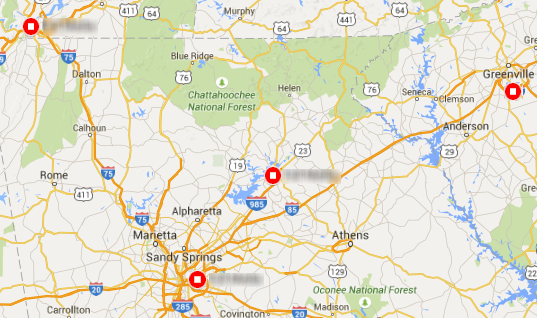 Content:
Each store will have information specific to the location including: city name, store name, physical address, hours of operation, contact information, and product or service offerings available at the store. You will create your main "Locations" page that should be located inside of the main navigation. Then, under the main location page you can set up a table where each store location city is listed.
From the table on the main location page, link each text listing each city to a page that elaborates on the store information for the specific store. As always, each location can also be linked to from your HTML sitemap.
Things to remember:
Your location page will be the first page that many of your customers see, so take care to give it a professional well developed look and feel. A landing page means that the page your user lands on first.
Each situation is unique and sometimes requires further strategy to implement location pages correctly so that users and search engines can easily find and navigate your business location or service area information. This article speaks in rather general terms and covers the most common situations.
For each location or service area it is important to include: company name, services offered, locations serviced and/or store locations, hours of operation and contact information. This is true for every type of location page; the differences in location pages lie in the structure and intent.
In order for users and search engines to find these pages, you must link to them from somewhere else on your website. However you link to the page: either through "hidden" links located on your sitemap, from other pages on your website or from your navigation, users and search engines cannot find your page information unless there is a link to it.
Curious about results?
Here are some typical results we see after implementing location pages on our client's websites:
Location pages begin to become top traffic generating pages on the website.
Conversions (sales or leads) increase. Users become more qualified and likely to convert. Typically, when a user is looking for a store or service near to them, they are further along in the buying process and have already gathered surface level information and know what they want or need.
Individual stores begin to get more business because of their unique presence on your company's website AND customers in different service areas are able to find your company and know that you are an option for their needs for your service.
On-site User behavior improves because you are pulling in more locally relevant users, rather than users from non-relevant locations. For example, Google will be much less likely show a dentist office located in Greenville, SC to users in California unless the user in California specifically searches for "Dentist in Greenville, SC."
We usually see these results to take affect fairly quickly after implementing location pages. Within a 1-3 months, we will be able to see traffic coming into the location pages and conversions through these landing pages begin to increase. While Google themselves say nothing can be guaranteed, in our experience, location pages have been a go-to strategy to increase traffic, quality of website traffic, improve user experience and most importantly, increase conversions which leads us to our goal of growing your business through a more effective online presence.
If you have more questions, like:
Should I optimize my other landing pages for my location?
How do I decide which location to use for my home page?
How can Paid Search help my local SEO efforts?
Should I focus on off-site local listings too?
None of these options feel applicable to my business, are there any other options?
We can help answer those and make a strategy for you. Get in touch to get started!