Google testing "website preview" in search results
Google is experimenting with s new feature that gives searchers a full page preview of websites that are listed in the search engine results. This allows a searcher to see a web page snapshot by hovering over the listing before they click through to the site itself. The Google preview also highlights and magnifies the section of text that contains the search query to give the searcher a peek at the relevance of the site's content.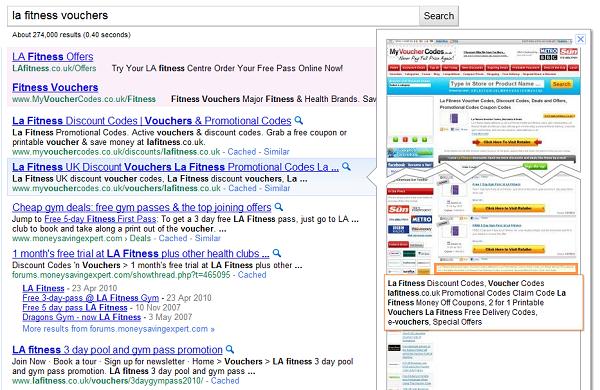 If released, this feature could have major implications for both web design and internet marketing. Since a searcher could choose to visit or ignore a site based on the preview alone, the creative look and functional layout of a site takes on even more importance. Additionally, well-written, keyword focused site content becomes critical to attracting visitors as Google grabs a snippet of text to display with the preview image.

It's not known when, or if Google will implement this feature throughout its search network. But Google's primary goal is to add features that enhance the searcher's experience (whether good or bad for the listed sites). This sounds to me as if it could be beneficial to search users so I wouldn't be surprised to see it in a future update.