Google Instant Impact on SEO
Google's recent announcement of "Google Instant" created a buzz in the search world due to its potential impact on search engine optimization. In short, Google Instant does two things: it predicts search queries as the user types and it produces real-time results before the user has to click the "search" button. It's a "search before you type" function which means Google is predicting your most likely search completion and serves up results in real-time.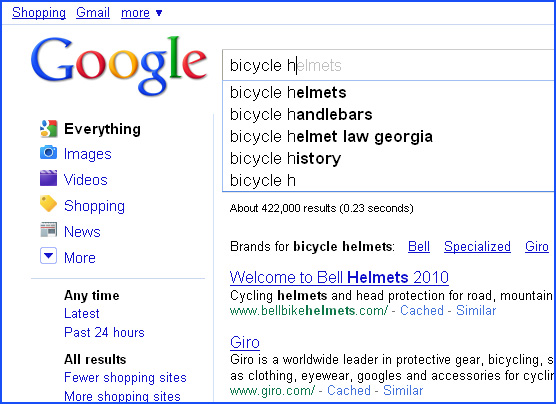 The "Long Tail"
This change is going to obviously make Google search much faster for the end user. The real impact on search engine optimization however lies within the long tail. Google Instant will reward the long-tail search approach. Users will simply keep typing, in greater detail, their search until they see the result of their choosing. For example, let's say you sell bicycle helmets and have a shop in Macon, Georgia. Your site could benefit from Google Instant because now your prospective customer will more likely be willing to refine their search until they find the result that best suits them. Google searches that used to involve "bicycle helmets" could now potentially look like "bicycle helmets in Macon Georgia". Users will be more inclined to search this way now that they can view real-time search results.

The Real Change
The real change in all of this has nothing to do with Google's ranking algorithm, but more in the user experience. Search results will remain the same for a search query, but Instant may alter the way people search. Quality SEO is still all about relevancy. With Google Instant, you have an even greater opportunity to be relevant now that users have a reason to refine their search in more detail. For more information on this, contact us.