Facebook Gift Cards: The Gift that Keeps on Giving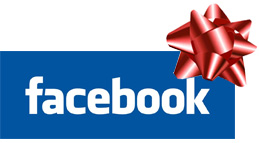 Sheer terror. The only feeling you have when you wait to the last minute to purchase a gift for that hard to buy for relative. You scurry around the mall in search of ideas that will, hopefully, point you in the right direction. With no time left, you give in to being creative and decide to go the easy, never-let-you-down path. You buy a gift card. The gift card is the one gift we all like to receive, but we don't like purchasing. There is nothing worse than telling the recipient of your gift card purchase that you like them "this much". This thinking is about to change.

Your local Target store is set to carry Facebook credits gift cards. That's right. The social network giant is putting its foot in the gift card ring. The gift cards will be available in values of $15, $25 and $50 at all of Target's 1,750 stores.

Of the 500 million Facebook members, more than 200 million members play free social games on Facebook every month. The credits purchased on each gift card can be used to buy goods on more than 150 of the games Facebook provides. This will be exciting news especially to those that play the ever popular Zynga and PopCap games.

Next time you're in line at Target checking out the latest tabloid headlines, why not shift your focus to the gift cards and go ahead and make that early Holiday purchase. I'm sure Mark Zuckerberg couldn't think of a better holiday gift to give. For more information, contact us.