A Website Redesign Making a Statement
A Website Redesign Making a Statement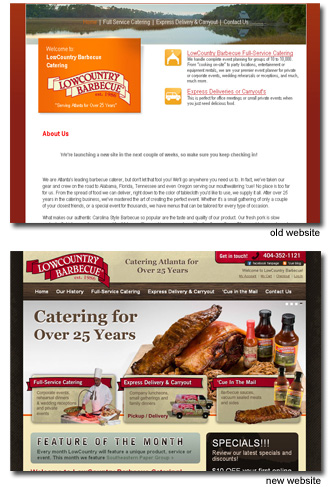 People form an opinion about your business when they look at your website. It doesn't matter how well you actually serve your customer base, if your website is lacking, your prospective customers will pass over your site and continue searching online until they find a site that appeals to them.

Full Media recently redesigned a website for LowCountry BBQ which is located in Smyrna, GA. If you have yet to taste the mouth watering food they cook up on a daily basis, then you are missing out. They have grown their reputation in the south as the caterer of choice for companies and organizations large and small. LowCountry can often be seen catering in such venues like The Trolley Barn in Inman Park, the Atlanta Botanical Gardens, and in Piedmont Park just to name a few.

The biggest challenge LowCountry BBQ faced with their old website was relaying their message online that they are the best of the best when it comes to BBQ in the south. The old website was dated, difficult to navigate, and unable to clearly communicate the Low Country BBQ story.

Full Media's first order of business was to simply listen to LowCountry BBQ tell their story. Because there is such history and passion behind LowCountry, we knew we had to design a site that was able to accurately tell that compelling story. Beyond conveying the message of LowCountry, we also needed to provide site visitors the ability to purchase their award winning BBQ, something the old website was not able to deliver.

In the end, Full Media and LowCountry BBQ came together to produce a website that is professional, easy to navigate, and able to meet the demands of site visitors looking for catering services in the southeast.

We invite you to view the new and improved LowCountry BBQ website at www.lowcountrybbq.com. And while you're there, go ahead and order some of the best BBQ sauce made in the south!